Bet365 Casino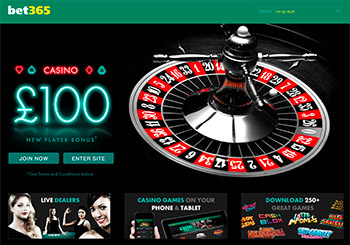 The Story of Bet365 Casino
Bet365 is probably best known as an online bookmaker, established in 2000 by Denise Coates as the virtual arm of her father's high street bookmaking business. The firm does provide many other services, not least the Bet365 Casino that can be accessed either online or on any mobile device or tablet.
This part of the company - the Bet365 Casino - has seen Bet365 rank as one of the biggest and best online gaming providers available. The service provider has won eGaming Review's 'number one gaming company' award three times, in consecutive years from 2011 to 2013. This was part of the publication's Power 50 list of the best internet gaming websites on the market.
What is up for grabs on Bet365 Casino? There is a number of different types of games that a customer can choose from. These range from such things as live dealer games and card games through to slot simulators and table games. There is too a whole portion of the site dedicated to video poker. This being entirely separate from the Bet365's own poker website.
Perhaps the thing that sets Bet365 apart from its competitors is its 'one wallet system' that allows customers to have the same username and password for all of their services - be they navigating the sportsbook or playing casino games; playing poker or accessing the bingo rooms. This also aids in the transference of the player's funds - the user able to simply switch their money from one account to the other with a minimum of effort or litigation.
Such an approach has seen Bet365 accumulate a massive 18 million customers across the world.
Navigating Bet365 Casino
There is very little to the Bet365 Casino homepage and, as a result, it is very easy to find what you want and begin playing for the latest games. Across the top of the page and beneath the green Bet365 header is a series of links. The 'Casino' tab should be highlight for that is where you should be, then there should be a 'Live Casino' link, a 'Promotions' link and a 'Mobile' link. There should also be a 'Help' link should any problems occur that aren't dealt with in this guide.
Up the left hand side of the page should be a list of tabs that will change what is displayed in the main body of the page - the types of games that are shown. The default setting is that Bet365 Casino will show all the 'Featured Games' though this can be altered to see it display only slot, card or table games. Otherwise, you can choose the 'Video Poker', 'Games and Keno' or 'Jackpots' links.
Once you have found the game that you were looking for, simply press the 'Play Now' button to open a new window and begin gaming. Those games with an ever-increasing jackpot will have the status of the jackpot (the amount of money you can win) clear stated in red letters beneath the game's icon. There is a large array of games on offer at Bet365 Casino, especially those with a TV or movie tie-in; think Rocky, Britain's Got Talent or King Kong to name three examples.
Should you be sure that you want to head over to the live casino, simply press the relevant tab at the top of the page. To play any game you must be logged in, something that you can do using the two boxes (username and password) in the green header at the top of each page.
Offers and Promotions
From the Bet365 Casino homepage, you must use the 'Promotions' tab at the top centre of the main body of the webpage to navigate yourself through to the page that will tell you about the services and deals provided by Bet365 Casino. The one promotion that isn't featured on this page, however, is the new customer offer though this should appear as an advert once you've typed the web address in the toolbar or clicked the relevant link on your search engine of choice.
The new customer deal allows new users to get up a £100 bonus on their initial deposit. There is a minimum deposit of £10 and a maximum buffer of £100 on this deal with your deposit matched by 100%. There is a similar slots only deal that will see all customers receive a 200% matched bet on their initial deposit. Again, the minimum deposit requirement is £10 whilst the upper end of this deposit limit is £200. Should you be wishing to get the third incarnation of this deal - the 50% VIP new player bonus - there is a £200 minimum deposit and a £500 maximum. There are three offer codes relating to each of these bonuses, for the standard new player bonus the code is BONUS100; for the slots only bonus the code is SLOTS200; and for the VIP bonus the code is VIP500.
Bet365 Casino provide a concise list of terms and conditions solely relevant to these new customers bonuses on the advert. In these terms are such things as the number of times these bonuses must be played with before they can be transferred and how many days you have to commit your received bonus (30).
Once you are a registered Bet365 Casino users, you will be able to take advantage of those services and deals as set out through the 'Promotions' link. The first of these services is the comp points scheme that allows customers to collect points and thereby receive prizes and rewards each time they play their favourite Bet365 Casino games. At Bet365, 100 comp points equates to £1 (or similar currency unit) with the proviso being that the more money you gamble with, the more you points you stand to earn. Selecting the relevant 'Comp Points' link through the 'Promotions' tab will see you met with a thorough and clear set of terms and conditions with a table of how many points you can earn per 10 currency units in each type of game on offer at Bet365.
These points can also be earned through the company's 'Slots Club', a scheme into which you can opt in in the hope of winning yourself another slots bonus. Players must opt into the slots club using the relevant 'Promotions' page link before they can start earning more comp points and begin trying to earn themselves a further slots bonus. Finally, join Bet365's VIP scheme and receive a litany of rewards depending on your VIP scheme status (gold/ silver/ bronze). All new players start off at bronze level upon signing up to the scheme, this seeing them receive monthly deposit bonuses as well as another £50 worth of bonus chips upon reaching 50,000 comp points. There are also special promotions to fit around the users' gambling activities.
Customers reach silver level when accruing 150,000 comp points, this status seeing them receive a £100 worth of bonus chips and a number of other bonuses. There's also a compressed comp points conversion rate and even more special promotions to match the client's gambling habits.
Finally, gold users - those with 500,000 comp points - receive £350 worth of bonus chips. They will also be in receipt of a bonus template designed to match the needs of the customer as well as receiving an extra £1,500 bonus chips when earning 1.5 million comp points. Again they will be treated to a compressed comp points conversion rate as well as even bigger bonuses and special invitations to major sporting events. Terms and conditions apply to all promotions.