Bet365 Poker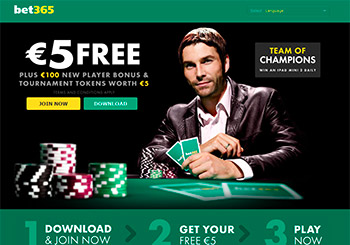 The Story of Bet365 Poker
Bet365 is one of the biggest sports betting companies in the world, and it has been this status that has allowed the firm to branch out into different revenue streams. Not only do Bet365 have a dedicated casino area, they also have a series of poker rooms available from the aptly named Bet365 Poker area. All these parts of the company can be accessed by their customers through desktops, laptops, tablets and mobile devices. Such availability through the latter two devices thanks to the Bet365 Poker application.
Much of Bet365's success is down to the fact that the company has grown massively over a short period of time; grown from being an unfamiliar name back in 2000 to that of one of the biggest online gambling groups in 2015, employing over 3,000 members of staff and serving 18 million customers. Both licensed and regulated by the British Gambling Commission, Bet365 has become a name that customers in this country have come to trust - something that potential new users should never overlook when signing up with any casino or gambling website.
The firm's poker endeavours is also part of its one wallet system, a scheme that allows punters to keep the same username and password for all of their Bet365 services, be they the sportsbook, casino or poker. The one wallet system also makes it easy for customers to move their funds from one account to one of the others, those punters able to transfer cash with the minimum of hassle.
Navigating Bet365 Poker
Like all of Bet365's online services, the poker area of their website is very easy to navigate around. The most important tools in aiding this navigation are the tabs just below the green banner at the top of the page. The 'Home' tab should be highlighted as this is where you should be whilst there should be a number of other tabs including those for 'Promotions', 'Tournaments' and 'VIPs' as well as the 'Mobile' and 'How To Play' tabs.
This homepage is just dedicated to an advert about Bet365 Poker's welcome offer - this will be explained in the following section. To download the poker software to your computer, simply move your cursor from the tabs at the top of the page to the green banner above them. You should see the time on your left hand side. To the right should be a tab that says 'Poker Download'. This should be located next to three other tabs; one that reads 'Help', another that reads 'Language' and another that says 'Services'. Click on the 'Poker Download' tab to immediately have the software begin to be installed on your computer.
Upon clicking this button, you will be navigated to a different page where there will be a step-by-step guide to getting the software successfully installed on your computer/ laptop. There are just three steps to the guide - its conciseness being appreciated - with each step being accompanied by at least one diagram to help. Remember, should you get stuck, to use the help button. Remember that this was located right next to the download button in the green header. This will open a new window where you can scan a list of FAQs or get in touch with one of the company's members of staff.
Whilst your poker software is downloading - you can take a look at the other tabs that occupy this page. These range from explaining the features that make Bet365 Poker different from their rivals ('Poker Features') to a basic and more thorough guide to the rules of poker ('Poker School' and 'Poker University'). There is also a hand ranking tab for the more forgetful among us and an explanation of the different kinds of poker games. Such in depth coverage provided by these categories means that new players won't be lost once their software has finished installing and they are embarking on their first poker games.
Offers and Promotions
You can find out more about the promotions and offers up for grabs at Bet365 Poker by selecting the 'Promotions' tab in the centre of the Poker homepage. From here you will see the six different bonuses and services that should improve your experience with Bet365.
The first of these, and perhaps the most important when considering whether or not you are going to sign up with the company, is the new customer bonus offer. This new customer bonus comes in two parts, the first; a 100% bonus matched to the same value as your first deposit up to the maximum limit of €100. The second part of this offer sees new users receive another €5 worth of tournament tokens.
Selecting the 'Opening Bonus' icon will reveal the necessary terms and conditions regarding the first part of the deal, such things as their also being a minimum deposit limit of €10. It is also here where you will find out that your matched deposit will be given to you in instalments and once you have earned enough merit points. The first €1 will be transferred to your account upon the achievement of 50 merit points with another €4 being up for grabs upon the earning of another 300 merit points. From this point on, a further €5 of your deposit bonus will be given to you for every 450 merit points you earn. The assessment of this offer we
can come to is that it is only worth doing, should you be looking to be a regular user of Bet365 Poker's services. New customers are treated well though, with there being a number of tables dedicated to new players that can be accessed in the 90 days following the opening of your account. This gives you the confidence to know that you are only playing against other beginners/ new players. This feature should definitely be taken advantage of.
Once you've finished on the beginners' tables, Bet365 Poker will be looking to have you play on their premium tables; these being a range of high end tables where promotions can be accessed and earned quicker and where a range of stakes are available. There is a list of terms and conditions visible on the relevant 'Premium Tables' page through the 'Promotions' link.
Another fantastic feature from Bet365 Poker is their offering of a range of casino games in the poker lobby so that their customers have something to do between hands in which they are not playing. Such available games include blackjack, roulette and slot games.
Whilst we have discussed four of the six promotions (the welcomes bonus/ new players' tables/ premium tables/ casino games); the other two currently displayed are adverts to specific poker room games where you can win specific prizes. At the time of writing, players can play in a freeroll tournament to try to win themselves a trip to Las Vegas and another tournament with a large €100,000 cash prize. Make sure you keep your eye on this 'Promotions' page for all the latest tournament offers and prizes. Terms and conditions apply to all promotions.