bet365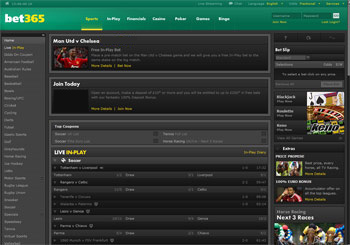 The Story of Bet365
The Bet365 Group Limited is one of the world's leading bookmakers and gambling outlets, the firm offering such services as poker, casino games and bingo alongside their main bookmaking avenues. According to their About Us page, the group now employs over 3,000 staff, these workers looking after the company's 18 million customers worldwide.
This explosion into being one of the market leaders in their field has its roots in humble beginnings. Denise Coates initially set up Bet365 to be the online arm of her father Peter's high street bookmaking establishments. This online venture was initially managed from a Portakabin in their hometown of Stoke-On-Trent. Peter Coates had been a gambling entrepreneur since 1974 and took the decision to branch out into the world of online bookmaking in 2000.
Bet365 no longer has a high street presence after managing director Denise took the decision back in 2005 to sell her father's shops to Coral in order to pay off the debt that they incurred when setting up the online accompaniment. The family are still key figures in the business, Peter acting as chairman with Denise as the joint chief executive alongside her brother John. Denise is also the majority shareholder.
In April 2013, the Daily Mail reported that the Coates family were set to become Britain's first ever gambling billionaires. They are also well known for being heavily involved in seeing football club Stoke City reach and sustain their Premier League ambitions as well as taking a key role in funding the Labour Party.
Denise Coates received an CBE in the 2012 New Years Honours list whilst local (Labour) MP Tristram Hunt described the company as being 'a great British success story ... that provides high quality well paid jobs for the City and unlike some other gambling businesses [it] pays its taxes in the UK.'
Navigating Bet365
Log into Bet365 by entering your username and password into the two boxes in the top right hand corner of the green header. It is this green header that also allows you to navigate from this sportsbook homepage to the poker room or games room. The horizontal banner is also essential for changing the website's language from English and for changing the style of the displayed odds (decimals/ fractions/ American). This green banner is omnipresent throughout your time on Bet365.
Should you be navigating the Bet365 sportsbook, you will also be aware of the ever-present alphabeticised list of sports that runs down the left hand side of each page. This allows for easy navigation from one sport to another but can be shrunk by using the '<<' icon at the top of the list, this thereby increasing the size of the information in the main body of the pages.
It is on the other side of the page where you will find your betslip, this being updated when you find your bet of choice. Beneath this betslip are advertisements for Bet365's latest offers and quick selection tabs for sports games that are currently in-play. Simply select one of these options to be taken to the dedicated event page.
Once you've found an outcome on which you would like to bet, click it to add it to your betslip. You will then be able to add in your stake to see the return you would get should your punt land. There will also be an each-way check box should this be relevant to the bet you are wishing to place.
By adding a number of outcomes to your Bet365 betslip, you will see a drop down box concerning 'Multiple Bet Options'. Such options could range from doubles to trebles to trixies to Lucky 15s depending on how many selections you have made. In some cases, these options will have different odds displayed. In all cases, you must type in your unit stake which will then by multiplied by the number to the left of that particular box. This will then give you the total stake necessary to place your wager. Always make sure that you are betting your desired amount by keeping an eye on the 'Total Stake' totaliser at the bottom of your slip.
Offers and Promotions
To check out the offers and promotions up for grabs at Bet365 you must scroll right to the bottom of the sportsbook homepage and open the link entitled 'Current Promotions'. This will then open up a new window from Bet365 Extra with the comprehensive list of services offered by the company noted.
Once new customers are registered, they can then take advantage of a litany of further offers and promotions concerning an array of sports. In terms of horse racing, Bet365 offer five things -
They promise to offer the best prices on every Channel 4 race.
They promise to give each punter that backs a 4/1 or greater winner in a Channel 4 race a Matched Bonus in the next.
They promise to deliver the same promotion as point two on other selected feature races.
They promise to deliver to their customers the best odds so that they don't have to take the starting price.
They promise to payout on disqualified horses - even those bets that are placed Ante Post.
Similarly themed promotions are available for greyhound races, the Sky dogs 2/1 offer working in exactly the same way as the Channel 4 offer but concerning those punters who back a winning dog at 2/1 or greater. There is also a best odds guarantee here too.
There are also a number of recurring football deals at Bet365, perhaps the most popular being the in-play offer that applies to particular games.
Furthermore, wagers placed on correct score, half time/ full time and score-cast markets will all be returned should the match in question end goalless, that is Bet365's Bore Draw Money Back offer. There are also a number of sport specific offers on tennis, rugby league/ union, Australian football and American sports - so definitely check those out!
You can stream live horse races upon betting £1 or more on the particular race that you want to watch. A similar scheme also runs for greyhound racing though you will be allowed to view those races on which you wager 50p or more. Bet365 users are also free watch live streams of other sports for free!
Don't forget either that particular sporting bets can be cashed out should you want to cut your losses or should you be winning and want to hold on to the returns that you have already won. This can be done by selecting your betslip, choosing the cash out tab and pressing the relevant button beneath your wager of choice. You will also be able to see how much you are cashing your bet out for.