888ladies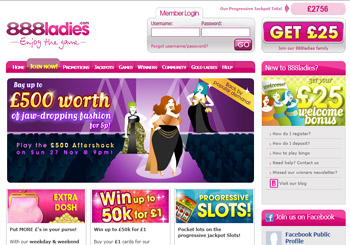 The Story of 888 Ladies
Like most (if not all) mainstream bingo sites, 888 Ladies is aimed at women. Why there is this theory that women are more interested in bingo than sports betting or poker is a mystery though 888 Ladies have gone the whole hog in a bid to attract their target demographic. The website's given name suggests its exclusivity to the fairer sex whilst one of the main colours on their site is pink. They are also proud sponsors of women's charity fundraiser Race For Life.
As the first part of their name suggests, 888 Ladies is part of the 888 Holdings group as made famous by Richard Kilsby and that which also owns 888Sport, 888 Casino and 888Poker. This umbrella group was founded right back in 1997.
The original of their two bingo websites, 888Ladies was established 11 years later in 2008. Since the website's formation, registered users have been able to log into the site to enjoy such services as 75-ball, 90-ball and 5-line bingo games. There is also an array of instant games, scratchcards and casino games up for grabs. These services were just available to those customers who logged on through their laptop or conventional computer right up until January 2013 when 888 Ladies launched their first ever iPhone and Android app.
This year, 888 Ladies is up for the Best Mobile Bingo Experience and Best Online Bingo Ad awards at 2015's Which Bingo Awards. The company have a long history of prestigious gong collecting after winning the Online Bingo Operator Of The Year award at the 2012 IGA Gaming Awards and the Best Bingo Marketing Campaign at the 2014 EGR Operator Marketing and Innovation Awards.
Navigating 888 Ladies
The 888 Ladies homepage is a vibrant place packed with useful information and links. In the top left hand corner is where registered users will enter their username and password, beneath this a banner containing all the tabs necessary to navigate around the 888 Ladies website.
Beneath these tabs, and to the left hand side of the page, are a list of the biggest progressive jackpot totals that are currently up for grabs. Just below these jackpots are a constantly updated list of the latest 888 Ladies winners. To the left of these, and just below the advert that occupies much of the space on the 888 Ladies homepage, is a list of all the bingo rooms that will soon be closing. Selecting the 'Play Now' icon will send the registered user to their bingo room of choice. The game type and jackpot total is listed next to information regarding when the next game starts.
Finally for the homepage, there are two links here to enable customers to send 888 Ladies feedback. These can be found towards the bottom of the website's homepage.
Move back to the row of tabs at the top of the page to negotiate your way to the game homepage. You can get here by pressing the relevant icon on the pink banner. On the bingo homepage there is a list of all the latest games that are due to start with a link allowing customers to join up with them. There is also an explanation regarding the three different types of bingo game on offer (90-ball, 75-ball and 5-line) with a link instructing those new to bingo of how to play.
Hover over the 'Games' tab at the top of the page to reveal a drop down menu and the 'Bingo Jackpots' tab. This offers the user a weekly schedule regarding 888 Ladies' main games, how much can be won and how much customers will have to pay to play. There is also further information (hover over the relevant 'i' icon) regarding how many calls you have to play through to win the jackpot.
With the 'Games' tab concerning itself with slot simulators, table games and scratchcards and the 'Promotions' tab dealing with all the latest offers and deals (see this review's final section), the function of both of these tabs is fairly self-explanatory. It is also worth heading over to the 'Mobile' tab if you want to play 888 Ladies' bingo on the go, here there is a QR code to allow for easy installation to your device.
Should you have any further questions regarding any part of 888 Ladies' services, simply head over to the 'Help and Info' link. This is where you will find a handy list of frequently asked questions as well as a link to an email address and a phone number. This is also where you will find the live chat feature allowing you to talk in real time to an 888 Ladies employee.
Offers and Promotions
Both registered 888 Ladies customers and those considering signing up to their bingo services can find all the offers up for grabs by clicking on the 'Promotions' tab in the pink banner at the top of the homepage. Clicking on the relevant tab will send you to the promotions homepage whilst hovering over the tab will reveal a drop down menu from which you can pick your preferred offer.
Once on the promotions page and once you have found the deal or service that is of interest to you, simply click on the 'i' symbol to cast your eye over some more information as well as the deal's terms and conditions. These terms are hidden in a drop down menu but are available on every page.
It makes sense to first describe the firm's new customer welcome bonus. This bonus sees every new customer receive a 400% bonus on their initial deposit. This means that if you put £10 into your account, you will receive another £40 on the house. Only those deposits in the range of £5 and £100 will be maximised by 400% with the maximum available bonus on offer being £400. The customer will not be able to cash out this bonus until they have wagered two times the amount of both the deposit and the bonus. All wagering must be done on bingo games.
Perhaps you could enter the new customers' bingo room where there is £888 up for grabs to all those players who have signed up in the last three days. There are free games in this room every hour from 7am to 10pm with £20 the hourly jackpot that's up for grabs. Also for new players are the three £5 jackpot games, also available through the new players' room. Remember though, these rooms will only be open until your fourth day of being a paid up 888 Ladies member.
Once you have taken advantage of these welcome offers, you will then be able to take part in 888 Ladies' other long running deals and promotions. The number of such offers is vast and a key reason why more and more people are signing up to their services.
For example, 888 Ladies will give you 50% of your deposit every time you commit money to your account using the relevant monthly reload code. Deposits must take place from Monday to Thursday with the player having to bet two times the deposit and bonus size before the bonus can be withdrawn from their account. No deposit should be any smaller than £10 in value nor any larger than £100 to be eligible for the bonus.
The firm are also rightly proud of the large quantity of free games that they offer their customers, these being available daily with jackpots ranging from £2 to £500. This allows registered users to join in the bingo action without having to commit any of their hard earned cash to their funds. Check the relevant promotion page, accessible through the 'Promotion' tab to see when and where these free rooms are on offer.
What else is up for grabs at 888 Ladies? At the time of writing the following deals were also available for their customers' delectation. Remember to check the relevant promotion page for more details.
The 'Pick A Prize' promotion where users can choose to take home a cash jackpot or a special prize.
The daily 'BOGOF' rooms that see you receive two cards for every one purchased.
A guaranteed £88 up for grabs every day from as little as a 2p entrance fee.
Daily £50 guaranteed jackpot games.
These promotions run alongside 888 Ladies' VIP Club service that sees customers earn valuable benefits for as long as they keep playing with the firm; and the 'Loyalty Royalty' service that sees long time players unlock exclusive rooms where they can get their hands on big cash prizes! Further terms and conditions apply to all promotions.