Paddy Power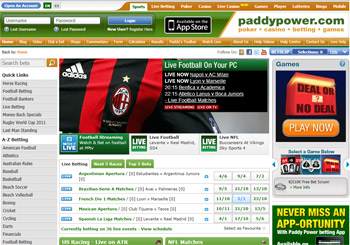 The Story of Paddy Power
Paddy Power was first established in 1988 after a merger of three Irish bookmakers; John Corcoran, Stewart Kenny and David Power. Just 27 years later and they are the third largest online bookmaker and the six largest online gaming business operating in the UK and Ireland. After acquiring the Australian brands Sportsbet and IAS, they are also the biggest online corporate bookie down under.
The firm first started trading on the internet in the year 2000 and have since branched out from their initial bookmaking venue to now also offer such services as bingo, poker and casino games. Paddy Power's website also claims that the company were the first bookies to take advantage of Apple's iPhone application services when they created their own app back in 2010. 'For some time we were the only bookmaker in the world in the Apple App Store', Paddy Power claim.
Offline, Paddy Power can boast having 356 retail outlets across Britain and Ireland. The breakdown of this empire sees 209 shops in the Republic of Ireland, 8 stores in Northern Ireland and 139 outlets in Great Britain. Despite Ireland still very much being the home of Paddy Power, the company state that more than two-thirds of their profits were generated outside of the Eire in 2010.
Most punters will have been attracted - or repelled - by the company's aggressive marketing campaigns, many of which having seen the bookie in hot water. Two such campaigns that saw them have to explain their actions to the Advertising Standards Authority included a TV advert that saw a partially sighted footballer mistake a cat for the ball and a newspaper advert that advertised the bookmakers' odds on the outcome of the trial of South African athlete Oscar Pistorius.
Navigating Paddy Power
Paddy Power regulars log in by using the designated 'username' and 'password' boxes in the green header at the top of the sportsbook homepage. Immediately above this green banner is a series of links allowing punters to move from the sportsbook to such other areas as in-play and virtual betting, poker, bingo and casino games. Directly below the main Paddy Power banner are a series of links that promote easy access across the sportsbook site. These links allow users to navigate to the blog, to the bookie's free commentary or to an in-depth list of form. There's also a bet calculator here as well as a link to find previous results and a service allowing punters to watch their races live.
There are a number of features up the left hand side of the sportsbook homepage, the first being a search bar to enable users to search through the Paddy Power website to find their desired sport, competition or selection. Should this not work then immediately beneath is an alphabeticised list of sports that will take punters to their sports homepage of choice. Even further down is a site settings function that allows those viewing the site to switch the displayed odds from fractions to decimals as well as a link to the customer service help centre and the details for phone bettors.
It is in the left hand column where you will find your betslip. Simply press one of your selections to see it appear up the left hand side of your screen. Appeared? Then type your stake into the relevant box and the amount you stand to win spelt out for you in the 'returns' section. To place a multiple wager simply continue selecting variables until your betslip shows your bet type of choice. This could be a double, a treble or even a trixie or Lucky 15.
Beneath the betslip on the Paddy Power homepage are a series of provocative adverts in keeping with the company's well known style. There are also more links to casino and poker games whilst also displaying a number of in-play markets from which you can select an outcome on which to bet. The 'Pimp That Bet' category, also found in the right hand column, allows punters to include on their betslip some of the most popular bets of the day.
Offers and Promotions
Once a registered Paddy Power member, users will be able to take advantage of a plethora of deals and offers to help them get maximum value from their bets. These promotions can either be accessed by selecting the relevant advert of the sportsbook homepage or by selecting your feature of choice from the quick links menu up the left hand side.
Remember, should you not yet be a registered member, Paddy Power will give you £30 of free bets upon you placing your first £10 wager. This original qualifying bet should be placed on an event with odds of 1/2 or greater with the offer only valid for 30 days after the opening of the new account. There are a number of other terms and conditions though these can be found by selecting the 'Click here for details' link beneath the advert on the homepage.
The first of the regular recurring offers for registered Paddy Power customers are those that come under the bracket of 'Money Back Specials'. These are a series of bets - applicable to all sports - that will see you receive back your unsuccessful wager should an event occur during the match or tie on which you have bet.
An example of this that is available at the time of writing is the 'Darts Money Back Special' that sees punters receive their money back as a free bet should the match on which they bet end as a draw. Another, this time cricket related, MBS is that customers will receive their money back in the Indian Premier League should the match be decided on the final ball.
Of course terms and conditions apply. These promotions can be found by selecting the relevant 'Money Back Specials' link in the quick links list. Also to be found in this area, though not strictly MBS', are news of extra places in horse and dog races; information regarding acca bonuses on your accumulator bets; and info regarding the football in-play offer that sees users earn themselves a £10 in-play bet should they place an initial £20 wager before the start of their Premier League match of choice.
Each of these promotions, when accessed using the quick links menu, has a 'Conditions' button which will open a new window full of essential small-print.
Paddy Power also run a Cash Out service alongside these recurring promos. Cash Out allows punters to remove a part of their total expected returns prior to the event on which they have bet running its course. They might do this if they feel as though they might lose the winnings they have already accumulated or if they want to cut their losses and take a smaller return than their original stake.
Cash Out only applies to certain sports and sporting events and customers should be wary of thinking before placing a bet thinking that they will be able to cash out their winnings. More information on this feature can be found by selecting the relevant link in the quick links menu. Here is where you will find a list of cash out games and an instructional video for more information.