Foxy Bingo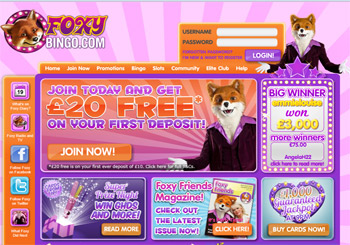 The Story of Foxy Bingo
Thanks to a concerted effort to maximise their commercial opportunities, Foxy Bingo is now one of the biggest online bingo providers in the United Kingdom. Even those non-players of the site will know the brand from their television adverts, those high energy commercials fronted by the be-suited fox; he who goes by the name of Foxy. Prior to the creation of this much loved character, former model and reality television star Katie Price was the face of the brand's advertising campaigns.
It is no surprise that the firm is as big as it is, it being backed by a number of reputable online gambling providers. The brand is owned by Cashcade limited.
The second big gambling group that props up Foxy Bingo is the Bwin.Party Digital Entertainment. This group were formed by the merger of sports betting website Bwin and poker and casino operator PartyPoker. In 2010 it became the world's largest publicly traded online gaming firm after being floated on the London Stock Exchange.
Foxy Bingo currently host over 40 bingo rooms and provide their customers with a number of ways of winning millions of pounds from as little as 1p. All bingo games come in two formats; customers can either play the 75-ball format or the 90-ball game. There are also various slot simulators, casino games and instant wins for registered users to take advantage of. These come in a number of themes and designs for their customers' enjoyment.
Navigating Foxy Bingo
The Foxy Bingo header at the top of each page is where users can type in their username and password. It is also here where the number of registered players using the site are recorded. This function will not only allow users to note the most popular times that the website is in use, it will also maximise the chance of them communicating with fellow Foxy Bingo users and making new friends and acquaintances.
Beneath the orange banner of important tabs - which we will return to later - there is a big advert drawing customers' attention to the latest Foxy Bingo promotion. This precedes a ticker altering players to all the latest winners and the size of their jackpot victories. Scroll further down the homepage and see a link to the bizarre Foxy Family online lifestyle magazine, a list of a selection of the progressive jackpot totals and a number of links to cards that can still be bought. The bottom third of the homepage is dedicated to information about Foxy Bingo, its origins and what its site has to offer.
Return to the tabs in the orange banner to begin a smooth navigation through all of what Foxy Bingo has to offer. Once you are a registered user, head over to the 'Bingo' tab; selecting it to read about all the different types of games that are on offer. Hover over the relevant icon to choose to read more about the game type or to play one of the open events. Choosing the latter will open a new window. This is where you will play your desired game. Be warned, the loading process takes quite a long time so be prepared to wait quite a while whilst the bingo rooms load.
Should you have exhausted your want for bingo, select the 'Games' tab in the orange banner at the top of the page to be linked to all of the different casino games that can be played at Foxy Bingo. These games are mainly slot machine simulators though they lack any real detail to help customers decide whether or not they want to play before they select the 'Play Now' icon.
The last all important tab in this banner is the 'Help' tab, this providing links to those helpful frequently asked questions as well as providing an email address and phone number. There is, however, no live chat feature.
Offers and Promotions
The orange banner at the top of the Foxy Bingo homepage contains the link to all of the company's many varied promotions. Simply click on the relevant tab to be navigated to the page listing all the deals and services exclusive to Foxy Bingo. It must be said that there are very few promotions compared to the firm's rivals and it would be advised that potential new customers check out some of the company's competition before settling on Foxy Bingo. You may well decide that there is better value to be had elsewhere.
Let's start with the welcome package. First of all, new Foxy Bingo customers will receive a £5 free bonus just for registering. There is no need to place a deposit to receive this first free gift. Should you want to place a deposit, however, Foxy Bingo promise to give their new users a 600% bonus on their first deposit. So place £10 in your account and receive another £60 on the house. This first deposit should not exceed £30 to be eligible for the promotion, nor should it be less than the £10 lower limit. Only one first deposit bonus is issued to each new player.
There are further terms and conditions applied to this offer. All Ts and Cs can be found by selecting the 'Terms and Conditions' tab at the bottom of the relevant promotion's page. This will then reveal a drop down menu that contains the relevant details pertaining to your offer of choice.
Once you are a registered Foxy Bingo member, you can then take advantage of the other deals and services the website has to offer. Firstly, the company's loyalty points scheme sees users collect a point every time they spend 10p on bingo cards. These can then be exchanged for more cards.
There is also the opportunity for customers to play free games at Foxy Bingo, some of these games carrying a £100 jackpot. To be in with a chance of taking this cash amount home simply enter either the Love Me Tender or Foxy's Den room between noon and 2pm or 8pm and 10pm. These games are available every day from Monday to Friday.
Also available on selected days are the firm's weekly specials. The first of this trio is the 'Speed Bingo' service that allows players to play from 8am until 9am or from 12.30pm to 1.30pm every weekday. These games start at 10p a ticket.
The second of these weekly specials is the 'Happy Hour' promotion, happy hours being on offer every Monday, Tuesday, Thursday and Sunday from 3pm until 4pm and 10pm until 11pm. These games are all free with penny games also available. This offer is similar to their third weekly special, the 'Night Owl' promotion. Here there are free and penny games on offer from 2am until 3am and 5am until 6am every Wednesday and Friday in the Gimme 5 and Love Me Tender rooms.
Finally, the promotion page tells customers of the pre-buy jackpots as well as those short term offers and deals that might just be running for a day or two but will more than likely be offering up big prizes and rewards! Further terms and conditions apply to all promotions.