Pacific Poker (888 Poker)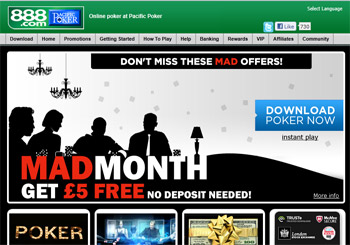 The Story of Pacific Poker
Pacific Poker is yet another online arm of 888 Holdings, that group set up by Richard Kilsby in 1997 and now has a plethora of sports betting, casino, poker and bingo providers under its control.
Five years after the formation of 888 Holdings, Pacific Poker was established. A year later in 2003, the company then begun holding tournaments. The company are proud of the services they offer their customers, such services as the choice of being able to play their poker games online or alternatively by downloading the Pacific Poker software to their desktop or to their mobile or tablet device. All about choice, as well as allowing their registered players to play for real cash, Pacific Poker also have a practise mode that sees their customers play for free and without any financial risk. Such a service is likely to be attractive not only to experienced poker players but also to those players who are either new to online gaming or new to poker altogether.
Whilst the services of the Pacific Poker brand have not been publically acclaimed to our knowledge, the 888 Holdings company is always keen to show off the awards that they have won since their establishment 18 years ago. Their most fruitful and popular years came in 2007 and 2008 when they cleaned up at the eGaming Review and the Leisure Report Awards. They won, amongst other things, the top gong of Casino of the Year and the prestigious award for Operator for the Year. It is of course important to consider the reputability of the your online poker provider before signing up to their services. Pacific Poker's credibility is clear to see.
Navigating Pacific Poker
Download the software necessary for playing Pacific Poker's version of the card game by selecting the 'Download' tab, located leftmost on the banner at the top of the homepage. This will then immediately kick off the installation process whilst also redirecting you to a step-by-step guide to help you through the process. At least the most important bits of the information written in this guide are easy to understand with images also present to further aid understanding. The text does get drier the further down the page you go.
There is another guide to the download and installation process on the 'Getting Started' section of the website, also available through the relevant link at the top of the page. This is also where you will find out about such things as joining a table and a tournament once you have registered with Pacific Poker. Again the use of screenshots in this section is applauded. You can find this area of the site by either clicking on the 'Getting Started' tab at the top of the page or by hovering over this tab and selecting the section that you most want to read.
Whilst that tab might be useful to those players who have never played online before, the 'How To Play' area, also accessible through the banner at the top of the page, will benefit those who have never even played poker before. Every aspect of the popular card game is covered in this guide with tabs down the left hand side should users want to move to a particular area of interest. Not only does this section advise about the different types of poker available, it also explains about hand rankings and key poker terminology.
Clicking on the adjacent 'Help' tab will open a new window, this with clearly marked sections so that the customer can quickly find the solution to their problem. Such categories on this page include enquiries about credit and debit cards, those about promotions and those about technical issues. Selecting one of these options will then send the user to a further list of links. Whilst most should find these FAQs useful, there is nothing better than a webchat service to quickly iron out any issues; something that Pacific Poker is without.
Offers and Promotions
The 'Promotions' tab can be found at the top of the Pacific Poker homepage, just to the left of the rightmost 'Download' tab. Hover over the 'Promotions' tab and cover a list of all the latest promotions offered by Pacific Poker. Otherwise, click on the relevant tab and be taken to the specific promotions homepage.
On first inspection of the Pacific Poker promotions page, you will be amazed at the number of exclusive offers and services that are on offer. Do not be fooled though, there is a list of previous promotions on this page that are currently invalid. Make sure that you only concern yourself with those deals that are currently in use.
There is one available offer for new customers, this being the free entrance into the €100K first depositors tournament upon your first deposit being placed. Whilst this is, of course, a very generous deal, it fails to really compare to those poker operators who are offering deposit bonuses and other such services. As a result, it is important to advise potential new customers to look at the offers being provided by other poker operators before taking the Pacific Poker offer. For more information on this new customer package, including the terms and conditions of the offer, select the 'Click here for more' link beneath the relevant advert.
Upon signing up to Pacific Poker you will then be able to take part in a bunch of other long term promotions for loyal customers. The first of these offerings is the 'PokerCam Genie' deal that sees webcam poker players rewarded should the poker genie be spotted in their webcam poker game. Pacific Poker do not state what exactly the prize that are up for grabs are but say that they are 'MAD'.
Another of Pacific Poker's recurring offers is the 'Teams Poker' promotion. This sees customers link up to their favourite Premier League, Bundesliga and La Liga football teams. Should you be playing in one of the specified Teams Poker rooms and your side pick up all three points, you will be in receipt of a cash prize - regardless of whether or not you are knocked out of the tournament.
Less of a promotion and more of a feature is the 'Private Tourneys' offering. This allows Pacific Poker players to set up their own private tournaments against their friends and poker acquaintances. To be able to hold their own online private poker experience, customers must just select the link on the relevant page at least three days in advance of when they want their tournament to be and simply enter their details. Their private poker game will then be confirmed.
Finally, Pacific Poker's 'Monday Twins' promotion makes the first day of every week the day for big deals and hot offers. There are currently seven ways to win big in the 'Monday Twins Challenge' room with buy-ins from just $20 and prizepots of over $10,000! Simply find the relevant offer page on the Pacific Poker promotion webpage to find out more. Further terms and conditions apply to all promotions.