Gala Casino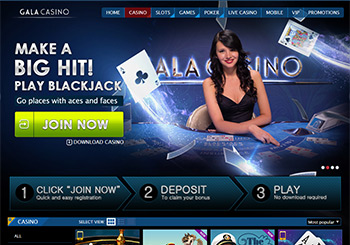 The Story of Gala Casino
Gala Casino is part of the Gala Coral Group, the UK's largest bingo operator and third largest bookmaker. The company, formed after a merger between the Coral brand of bookmakers and the Gala Bingo firm, also owns over 30 casinos; Gala Casino being the online arm of this latter endeavour.
There are a range of game titles and types up for grabs at Gala Casino, such features ranging from poker games and slot machine simulators to live jackpot games and mobile services. The Gala Coral Group website describes Gala Casino as being one of the United Kingdom's fastest growing online casinos with over 400 games on offer to their customers. This brand also serves Sweden, another territory in which the service is popular.
In March of this year, the choice on offer grew by 50 as Gala Casino signed a deal with the Gibraltar-based service provider Odobo; this company providing their online arm with a further series of titles. The 'About Us' page on Gala Coral's website states that Gala Casino also uses 'state of the art' technology supplied by Playtech, Amelco and Openbet.
Not only is Gala Casino accessible through laptops and desktops but is also available on tablets and thanks iPhone and Android applications.
Potential new customers will also be pleased to hear about the company's one wallet policy. What this means is that users can easily move their funds from one account to the other with the minimum of fuss. The 'Coral Connect Card' also means that customers can have the same username and password for each of these accounts whether for bingo, casino or otherwise. More information on this new technology can be found on Gala Coral's 'About Us' webpage.
Navigating Gala Casino
Negotiate you way around Gala Casino's website by using the series of blue links at the top of the homepage. The homepage, as you will be able to see, is merely an advert; a list of the website's featured games; and a list of reasons why they think that potential customers should choose their services over those of their rivals.
Hovering over the first couple of tabs in the row of links at the top of the page, these being 'Casino' and 'Slots', will reveal a drop down menu that states the types of games that can be chosen as well as a list of examples of the most popular games on the site.
Click on either of these tabs to get a full range of choice regarding games. Upon finding one you would like to play, simply select the 'Play' button to start or the 'I' button to receive further information concerning the premise of the game and the skills that should be involved in the completing of it. There are a vast number of games with various themes and designs - something to keep everyone happy!
The 'Jackpots' tab works in the same way as the first two tabs, only without the drop down menu and concerning just those games with progressive, ever increasing jackpots. Each game will have the jackpot that you will be playing for clearly stated in the relevant icon.
All the games listed in the 'Live Dealer' tab and most on the 'Macau' tab give the customer the live casino experience, these links helping the customer to find what they are looking for with relative ease. There is also a section on the 'Live Dealer' page explaining the benefits of playing a live dealer game.
Select the 'Mobile' link to receive instructions about how to receive Gala Casino's games on your mobile and tablet devices and the 'Poker' tab should you want to move over to this area of the site. Should you be a VIP, there is a tab to go to this particular area of the website whilst the 'Promos' link will send you to that page concerning bonuses and latest offers.
Remember to type in your username and password in the boxes in the top right hand corner of the homepage. The nearby 'Chat' function will help you should you come across any problems.
Offers and Promotions
You can find Gala Casino's range of promotions by selecting the 'Promo's tab, the last in a series of tabs on the blue header that can be found on the website's homepage. Clicking this link will transfer you to a long list of promotions that are up for grabs. The great thing about these listed promotions is that they are all long standing and recurring meaning that customers can become sure of the necessary terms and conditions as well as the schedule regarding which service and offer is in effect when.
It make sense to begin by explaining the three new customer bonuses that are up for grabs, in case you are a potential new user of Gala Casino's services. The first of this trio of deals is the 100% matched bonus that sees all customers get their first deposit matched by the company up to the maximum value of £400. All customers have to do is sign up to Gala Casino and make a first deposit of between £10 and £400. They must then accept the pop-up that will appear and agree to the bonus terms. You will then be credited with the bonus!
Once you have taken advantage of this initial offer, it will then be possible for customers to receive 50% of their second deposit matched. This is the company's reload deal that sees them match any sum from £10 to £100; so if you make a second deposit of £50 you will receive a £25 bonus absolutely free. Again, you will have to allow the pop-up and accept the terms of the agreement.
The third off these welcome offers is exactly the same as the second except that it applies to your third deposit. Whilst this is an absolutely fantastic deal, you must remember to read all the terms and conditions before committing to any part of the new player bonus. Such terms include that that says that the player should have to play with their bonus 20 times before it should be withdrawn. It is also stated that all wagering should be completed within 14 days. Once you have become a Gala Casino customer, you will then be able to enjoy the other long standing deals offered by the company. The first of these is a £5 bonus when trying out new games. All the user has to do is deposit £10 and spend this £10 on one of the games as specified on the relevant offer page made available through the 'Promos' link. Once this amount has been betted, the account in question will be topped up with a £5 bonus. This process can be repeated each and every time a new game appears on the relevant offer page!
Those playing blackjack on a Monday will be able to receive up to £100 of their cash back. Customers should simply place 20 or more qualifying bets on the day in question before receiving 10% of this total amount back, up to the value of £100. This offer can be redeem on any of the following games -
Multi-Hand Blackjack
Live Blackjack
American Blackjack
Interested players should opt into this promotion and will receive their cash back by the end of the next day. Deposit £10 or more on a Tuesday and receive an instant 25% bonus up to the value of £100. This is part of Gala Casino's Top Up Tuesday offer and will be paid once the user has made their deposit and has accepted the terms that appear in the following pop-up. As with all Gala Casino promotions, a series of terms and conditions apply.
Similarly, you will also receive a 25% bonus upon depositing an amount of money in your account over the weekend. This 25% bonus must not exceed £100 which means that you must not deposit any more than £400. You must also except the terms in the pop-up box. This promotion is part of the 'Weekend Winner Reload' deal.
Every time you commit money to a Gala Casino game, you will be earning yourself comp points. These points add up to cash bonuses with 100 comp points adding up to £1 in cash. Every £10 stake will see you redeem £1 comp point. Such a conversion rate means that this service is only one for those regular users of Gala Casino. Terms and conditions apply to all promotions.