Stan James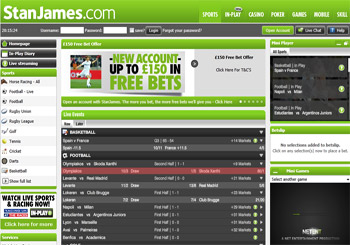 The Story of Stan James
Stan James have their headquarters in Oxfordshire, England and whilst many of their rivals revel in the fact that they are recognisable names across the world, Stan James takes a different approach. According to their website, Stan James' online arm services customers from 120 countries though instead of capitalising on this success by replicating this service to occupy a number of different Stan James domain names, the company instead invests in emerging foreign brands.
In Spain, as a primary example, the firm is behind the Golden Park online brand. Similarly, in Oregon, America they trade under the name of 'Racing2Day' and in Ireland Stan James joined the Betpack team. Such an approach is replicated across Europe and allows the firm to focus the Stan James brand on the United Kingdom market.
The bookmaker wasn't always an international enterprise, the company's founders Steve Fisher and James Holder, starting off by opening just one shop back in 1973. The business is now run by CEO Denis Kelly with the brand now incorporating 90 betting stores across the UK as well as running an online website (that also offers its customers the chance to play poker and casino games), a smart phone app and a telephone betting service.
Famous for their green and white signage, Stan James have managed to reach a vast number of punters through their sponsoring of a number of key sporting events. Perhaps the pinnacle of these partnerships is the company's sponsoring of the Cheltenham Festival's Champion Hurdle, thanks to increased footfall and television viewing figures since the bookie's association with the event back in 2010. The Champion Hurdle is the final leg in a series of races, the bookmaker sponsoring all under this umbrella.
Navigating Stan James
Registered Stan James users can sign in using the two boxes entitled 'username' and 'password' in the header in the top right hand corner of the sportsbook homepage. To the left of this is where there is a tab to change the adverts up the right hand side of the page to your betslip, the functionality of which will be explained later.
In the banner below this initial green header is a number of links allowing punters to move from the sports homepage to the page concerning in-play bets. They are also able to move to the casino and games areas whilst there are also tabs to allow bettors to play poker and read more about Stan James' mobile application.
The left hand side of the sportsbook homepage is also dedicated to seeing their customers easily navigate the site. The uppermost section of this list of features is a search bar allowing punters to type in what they are looking for and, hopefully, get directed straight to the relevant page. Such relevant things to type in this bar are names of events, sports and even teams.
Below this function is a concise list of links regarding in-play betting and another drop down menu that is concerned with promotions. Indeed it should be said that all these categories can be opened up or hidden to enhance your betting experience. Further beneath this is the 'Quick Links' menu seeing Stan James customers directed to the most popular sports these, at the time of writing, being cricket and football and golf and horse racing.
The penultimate thing up the left hand side of the sports homepage is the alphabeticised list of sports beginning with American football and ending with volleyball. This is an absolutely comprehensive menu of markets, each category being accompanied by a small picture that helps customers to easily differentiate one sport from the next should they be in a hurry. This list is the only one up the left hand side of the page that cannot be hidden away.
Finally, the leftmost section of the homepage is also home to Stan James' list of services and is of use should you be looking for more from your bookmaker than just simple betting. Such things included in this final display are a link to enable customers to watch live racing; a link to live commentaries; and a link to horse form and other alerts. There is another link to the promotions page here as well as being home to the link containing the day's daily nap and that promoting responsible gambling.
As previously mentioned, the right hand side of the sportsbook homepage is dedicated to adverts and social media content unless you flick the switch to the left of the log in boxes or place something on your betslip. Once you have accessed your betslip and you have placed something on it, just type in your stake to see your potential return appear. Should you wish, you can also check the each-way box. Selecting more than one outcome will see a number of betting multiples appear on your betslip (trebles, doubles, trixies etc.) and you can simply add your stake to the relevant box to make your multiple bet.
Offers and Promotions
Stan James' new customer offer comes in the shape of a free matched bet, the punter receiving a £10 free wager should they place a bet of £10 on an outcome initially. As with all of the offers at Stan James, there are a number of terms and conditions that need to be applied to this deal, perhaps the most interesting being that all original first bets should be placed on outcomes with odds of 4/5 or greater. Any winnings from the free bet are then returned without the original stake.
Such information regarding terms and conditions can be found by selecting the 'Read More' tab upon clicking on the 'View All' option listed on the promotions menu. Scroll right down to the bottom of this page and read the general terms and conditions with regards to all promos on offer.
Upon registering as a Stan James user, you will then be able to take advantage of a number of recurring offers, deals and insurances. Though some of these offers are concerned with the casino, poker and bingo areas of the site; our focus will just be on those promotions that serve the sportsbook pages.
Horse racing punters will be more than happy with the array of meaningful offers and services up for grabs. Stan James currently provide the following,
Your stake back up to the value of £25 should your horse finish second in a Channel 4 race. Your bet must be placed using your mobile or tablet.
The ability to watch horse racing on the go. Simply place a bet of £1 or more on a particular race and watch it for free through your mobile or table device.
A Happy Hour running from 11am to 12pm every Saturday, in which the bookie promises to offer their customers 'the best industry price on a selected high-profile horse running in Britain or Ireland'.
A best odds guarantee that sees the customer receive winnings returned to the value of the starting price, should this SP be greater than the early odds previously taken. This means that it is nearly always worth taking the early price. Their 'NagMe' service informs bettors when their favourite horse is running or when their favourite jockey is aboard a particular mount or when their favourite trainer is set to saddle a fancy. This service also has displayed racecards and odds as well as NAPs and notes features.
Unfortunately for lovers of other sports, Stan James are not as generous in their offerings of promotions concerning non-horse racing events. At the time of writing there is just one football offer, this being a promise to give customers there stake back as a free bet if their first goalscorer selection hits the second goal of the game. The only golfing offering is an insurance on 3-4 ball accumulators.
Terms and conditions apply to all promotions.