VC Casino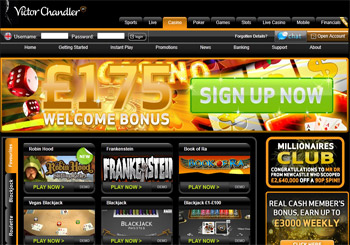 The Story of VC Casino
VC Casino is a part of the BetVictor bookmaking dynasty, the VC of the name take from the full name of the company's founder, Victor Chandler. According to the brand's website, the casino was established following a successful test period - the first casino game being offered by the brand being the Spin Room. The key to the Spin Room's success was that it did not need to be downloaded, something that made access all the quicker and more simple. This Spin Room has now been replaced by VC Casino.
Whilst the VC Casino still carries some of the hallmarks of what made the prototype great, the company are also keen to point out that they have made some improvements on their original formulae. Such improvements, crafted and eventually perfected over the intervening years, including (according to BetVictor's 'About Us' webpage); 'new software', 'the very latest functionality' and 'regular updates to the website'.
Through this casino feature, punters can access such services as their plethora of casino games, their slot machine simulators and their poker room. Should their registered users have any issues with any of these services, they can read through the website's list of Frequently Asked Questions or perform a live chat with one of the members of the customer support team.
What's more, the VC Casino is part of a BetVictor brand that has been in the public's consciousness since its formation in 1946. As a result, when you sign up you will be dealing with a reputable and responsible company that prides itself on fairness. This is something that shouldn't be taken too lightly when trying to find a new casino operator.
Navigating VC Casino
There's a lot for the new customer at VC Casino to get their head around when first clicking on to the homepage. Despite looking frenetic, the website is fairly easy to use. At the top of the page there is a list of tabs looking to take you away from the casino facility. Beneath that is a large advert. Beneath this advert is a useful feature allowing players to type in the game or type of game that they are looking for and search for it, thereby cutting down on the amount of scrolling that needs to be done.
The secondary row of tabs on the homepage allows the customer to change the types of games that appear in the homepage. Should you want to view just roulette, blackjack or slot games rather than the full range on offer, simply select the relevant link. Once you've found a game that piques your interest, hover over it to play it or select the 'Game Info' button to find out more about the game's premise. From here it is also possible to see how other customers have rated the game whilst also having a 'Demo' option that allows user to play without committing any of their cash to the pot. As there is no need to stake your cash, you do not have to be logged into your BetVictor account to play VC Casino demo games. Happily, this means that non-BetVictor customers can also try before they buy.
Pressing the 'Play Now' or 'Demo' links will open a new window. This is where you will play your casino games of choice. Up the right hand side of the homepage is a plethora of information that should be taken into account. The first is an acknowledgement of the daily promotion - you can read more about that in the following section of this article. The second bit of information is about the big winners of the month and the day. This is always good to see, especially if you are having a bit of an unlucky time! The hot and cold slot sections outline which machines are paying well and which are not so frequently giving returns to customers. These 'Hot' and 'Cold' sections are also located up the right hand side of the homepage.
Finally, the right hand column is where you can keep an eye on the status of the progressive jackpots. Move back to the top of the page to find out more information about how to get started - this is a really useful tab for beginners - and to receive a list of the company's promotions. This row of tabs also contains a support centre and a link to the VIP area of the website.
Offers and Promotions
Once on the VC Casino homepage, you can check out all the available offers by clicking on the relevant link in the secondary toolbar. Though just hovering over the 'Promotions' tab will reveal a drop-down menu, pressing on 'Promotions' will see you transferred to the relevant page where all the exclusive deals and services are laid out in a list formation.
It would make sense to first describe the welcome offer for new customers only, this deal seeing newly registered users receive a bonus of up to £175. All users have to do is wager an initial £500 to be in receipt of a £25 bonus. They will then receive another £50 upon placing another £1,500 bet and another £100 upon their betting of £3,000. Of course, a lot of money needs to be staked to even receive a £25 bonus and whether or not you can afford this should inform your decision as to whether you will sign up for a VC Casino account.
Once a registered user, customers can then take advantage of a number of long term recurring promotions. VC Casino promise that their offered promotions could provide you with bonuses as high as £3,000 in cash, this fund being distributed in accordance with a number of factors. The first is how much of your own cash has been spent, the second how frequently you play and the third how often you play VC Casino's favourite game - Live Roulette; the fourth the size of your wagers and finally, whether you are running at a profit or a loss. Could you be in receipt of such a massive sum of cash?
Following on from this, VC Casino also offer one daily deal a day for the full seven days of the week. On a Monday, customers will receive a £10 bonus every time they play the 'Invisible Man' game. This reward will be transferred once the user has bet a total of £25 on the game.
On Tranquil Tuesday, the promotion concerns the 'Flowers' game, those customers that wager £25 being treated with a £10 bonus. Again, such a reward is up for grabs every Tuesday for the duration of the promotion. Those who wager £25 on the 'Piggy Riches' game on Wealthy Wednesday will receive a £10 bonus and the same goes for those who play 'Jack Hammer 2: Fishy Business' on Thriller Thursday and the Frankenstein game on 'Freaky Friday'. This promotion continues into the weekend with £10 going to those that bet £25 on 'South Park: Reel Chaos' on a Saturday and those who spend £25 on the 'Big Bang' game on Celestial Sunday.
As usual, terms and conditions apply to all promotions and cover such things as the amount of times you can play with a bonus before it can be withdrawn from your account (30). Whilst players can get value from these promotions every week, they can only be exploited once a day. The promotions are available for both desktops and laptops and mobile and tablet devices.