Spin Palace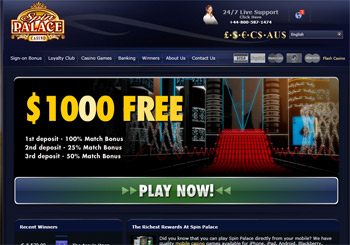 The Story of Spin Palace/ Spin Casino
Spin Palace had a long and interesting history before ending up as a subsidiary of the Betway Group. It was previously a product owned by Fairground Gaming, a brand founded in 2005 and the proprietor of a number of online casino outlets also including Ruby Fortune Casino and Mummys Gold Casino. They had also established a sister website of Spin Palace named Spin Palace Poker. After the company was unable to continue taking customers from the United States following the passing of the Unlawful Internet Gambling Enforcement Act of 2006, the company was liquidated.
Spin Casino is a sister group of Spin Palace, the UK branch owned by the Betway Group. Their software is provided by Microgaming with the brand offering a number of new games on a monthly basis. At the minute, the 1000s of games currently on offer fit into one of five broad categories; blackjack, fruit machines, roulette, slot machines or video poker. Their website boasts having over 400 games and activities available to their registered customers.
After their bumpy start to life, it is beneficial to know that the company now have been awarded the prestigious eCOGRA Safe and Fair certificate. According to Spin Casino's website, this certificate is only awarded to those providers who demonstrate 'the highest standards of security and honesty' whilst also promising to abide by six key brand values.
These brand values are as follows
Distinction in everything we do
Rich rewards
Innovation
Fair play
Responsible and safe gaming
Passion
These six values will be pivotal in building up a trusted customer base and vital in their becoming one of the biggest brands currently online.
Navigating Spin Palace/ Spin Casino
Anyone who has ever clicked onto Spin Casino's website will know that it is sparse. That's because customers will need to download the relevant software to play Spin Casino's games and the company have not made too much of an effort in presenting their website in any stylised or informative manner. To begin downloading the software, simply press the 'Play Now' button on the website's homepage. This will immediately begin the download. Unlike some of their rivals, however, Spin Casino do not talk their customers through the process and, consequentially, those new to online gambling might be put off from using their services for any period of time.
Also on this sparse homepage is a list of the benefits of using Spin Casino, as well as a potted history of the site and a short explanation of what they have to offer - the most interesting of these facts being that their 'payout ratio tops 97%'.
Return back to the top of the page to take advantage of the available quick links. The basic nature of the website means that very little meaningful or interesting information is given, such things as the types of games they have on offer (apart from five basic images) and how to play said games. As a result, new players must first download the software to their desktop, sign up to a Spin Casino account, decide if they like it and uninstall it should it be unsatisfactory. Before going through this whole process, it is important to sit down and decide whether or not this is something that you would like to do.
The second link on the list is concerned with promotions. We have extensively covered this topic in the final part of this guide. Please scroll to the 'Offers and Promotions' section should you be wanting to read about that. The loyalty club - the next link along - is Spin Casino's rewards system in which customers must collect points to redeem casino credits. Five of these points are earned every time you spend £5 with 5,000 club points making around £10 in casino credits (depending on your exchange rate). Whilst any sort of service is good, this only really benefits those users who will be regularly logged into their Spin Casino account and regularly laying down lots of money. Those casual, small stakes punters probably won't get a lot of use out of this points system. This is also the page you should turn to should you be looking for the rewards that you could earn being part of the VIP club.
That page entitled 'Banking' is perhaps the only genuinely useful link in the whole list of links that top the homepage. It tells you whether or not you will be able to deposit and withdraw using a plethora of credit and debit card types and tells you the advantages and disadvantages of using each card.
Finally, the 'Contact Us' tab is useful should you need any help though is not as useful as the live chat feature that you can access using the icon in the right hand corner. Simply click this link to be linked up with a member of staff. You will then be free to have a webchat.
Offers and Promotions
Select the Promotions tab on the Spin Casino header to check out all the exclusive services and deals offered by the online casino provider. Whilst it may look, on first sight, that there is only one deal up for grabs; you should scroll down and select the '2nd bonus' and '3rd bonus' tabs to take a look at those other deals offered by Spin Casino.
Unfortunately, many customers will be disappointed at just receiving three rewards, especially when all these rewards are for newly registered users. This means that those who may have made a long term commitment to the service provider many well go for many months without being thanked through some sort of reward or other. Potential new players must weigh up whether or not they are so attracted by those services that are offered by the company that they would not miss regular promotions and deals.
New customer welcome bonus number one is an immediate 100% matched deposit bonus worth up to £250. This means that, should you make your first deposit one for £250, you will begin playing with a grand total of £500. All terms and conditions can be found in the more links section at the bottom of the page. Again unfortunately, there are no specific Ts&Cs for promotions, meaning that customers will have to scroll through all these general terms to find those concerning their promotion of choice. You must, however, select the 'I wish to receive the Welcome Bonus' box during the registration process with your deposit having to be made within the seven days of opening your account.
The second new customer bonus sees all newly registered users earn another 25% matched bonus on their second deposit up to the value of £250. This means that, should you load your account with £20 on your second deposit, you will immediately have an extra £5 to play with. Again, terms and conditions can be found in the more links section of the account.
Finally, the third welcome offer sees new users in receipt of a further bonus. This time, upon making your third deposit, Spin Casino customers will have their account credited with an extra 50% of their third deposit up to the value of a massive £500. This means that if you make a third deposit of £30, you will have an extra £15 to play with. Terms and conditions apply to all promotions.