32red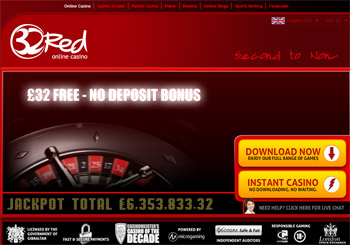 The Story of 32Red
Founded in Great Britain by former Ladbrokes employee Edward Ware in 2002, 32Red are an online casino brand who are now licensed in Gibraltar. Their website allows customers to play over 500 different casino games including card games such as blackjack and poker and other events such as roulette. Alongside this primary revenue stream, 32Red also offer their registered users the chance to lay down money using their sports betting service.
Whilst sports betting may not be 32Red's main focus or expenditure, their website states that they 'are first and foremost a gaming business'; they have found a great deal of publicity through advertising themselves as a sportsbook operator and through forging partnerships with a number of sports clubs. The firm have been the shirt sponsors of such football teams as Aston Villa and Swansea as well as also linking up with Crawley Town in the second tier of the Football League and Rangers in the Scottish Premier League. Such a continued spotlight on their brand has seen 32Red's popularity and status rise.
According to 32Red's website, the site won the prestigious top gong at the Casinomeister Awards eight years running from their first full year of trading in 2003 to 2010. Whilst they do not claim to have won much since - apart from the eGaming Review Awards' Casino Operator of the Year (2011) - potential customers should welcome their history of delivering a high quality service to their registered users.
The company's mission is to 'provide a unique, trust-worthy and award-winning online casino experience, [and to ] thrill and excite every player in a stylish, responsible and fun manner.'
Navigating 32Red
It is very easy to navigate around the 32Red website, the key to this easy passageway through to what you want to find being the header at the top of each webpage. It is this header where you will find a series of tabs and these will aid ease of use. The first, 'Online Casino' will be the one we will need to start with though the others include 'Games Arcade', 'Mobile Casino' and 'Live Casino'; 'Poker' and 'Online Bingo'.
Select 'Online Casino' to be taken to the relevant homepage. It is here where you will find a list of popular games as well as a series of adverts concerning the latest promotions and, beneath them, quick links to such features as the 'Getting Started' page, the 'About 32Red' page and a link to the support area; a link to banking information, a link to games and a link to the company's commitment to responsible gambling.
Scroll down further to see the day's and week's top winners listed, next to this will be a short introduction telling customers what the firm is about in terms of their ethos.
After becoming familiar with the homepage, registered users should then either scroll right back to the top of the page and select 'Games Arcade' or choose the link to games in the series of quick links about half way up the homepage. Either of these links will take you to the arcade where customers can enter their username and password (up the right hand side of the page) and where they can then start playing all the latest games.
Beneath the prompts to enter your vital details (username and password), there is another reminder of all the big winners of the week. On the left hand side of the page, there is a searchbar so users can quickly type in the name of their favourite game as well as a list of links to game types. Selecting one of the game type links will change what is shown in the main body of the webpage. It is possible to change from the default setting of 'Featured Games' to any of the following, 'Latest Games', 'Casino Games' and 'Fruit Machines'; 'Numbers and Kino', 'Scratchcards' and 'Slots'. These are joined by links to so-called 'High Limit Games' and a link that will show all of the 500 available games in an A to Z format.
Once the game you want to play has been found, simply select the 'Play Now' button or the 'Free Play' button. The 'Play Now' option sees the customer play a standard game using the funds that they have committed to their account whilst the 'Free Play' is simply a demo; a try before you buy option. You do not have to be registered to partake in a 'Free Play' game. In either case, the 32Red website will open a new window, this being where you will play your games.
It cannot be said that 32Red's choice of games are not varied in their style. They range from basic to more complex and from plain to themed. Some games are even based around television shows, the one that springs to mind being the 'I'm A Celebrity, Get Me Out Of Here' branded game.
Offers and Promotions
Scroll halfway down the 32Red homepage to find the list of promotions on offer. The initial offer we should deal with is the £10 free wager with no deposit required. Quite simply, this means that all punters will receive £10 worth of casino chips without the need to first lay down a deposit upon signing up for a 32Red account. This means that those first time customers perhaps unsure of what they are doing have £10 to play with, without any risk to their own finances.
Upon registering, you will see a banner emerge from the right hand side of your homepage, it will welcome you to 32Red and ask you if you would like a free £10 bonus. You must select 'Yes' to claim your reward. You will then receive yet another bonus once you make your first 32Red deposit.
This second welcome offer allows punters to receive a free £32 in chips with each £10 new users lay. So should you make a £20 deposit you will receive £64 in free chips. The maximum amount of free chips that can be claimed is £160 and these can be earned when making a first deposit of £50 or more. There are similar welcome promotions regarding slots, where customers can earn up to £300 of free wagers, and Blackjack and roulette, here new users can claim a maximum of £250 worth of free chips.
The terms and conditions on these welcome bonuses make it clear that players can only claim one of the above cash deposit offers, so select which one you would like to redeem wisely. These terms also make it clear that there are rules regarding how many times you have to play with your chips before they can be withdrawn into your bank account. Should you live in Northern Ireland, you will not be eligible for the above promotions.
Finally, and less of a promotion and more of a service, 32Red give their registered users the chance to play their casino games on their tablets and mobile devices. Available on all iPad, iPhone, Android and Blackberry devices; simply find the relevant promotion on the 32Red homepage and click the 'Send App to your Device' button to starting playing 32Red games on the go.
Further terms and conditions apply to all promotions and services.