Gone Bingo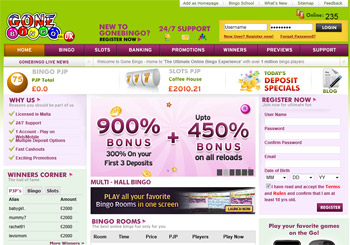 The Story of Gone Bingo
Gone Bingo is a product from the Isle of Man-based Cozy Games company. Cozy Games were co-founded by former Party Games employee Sreeram Reddy Vanga and have since been in business for 10 years working alongside other organisations as Product Madness.
It could be argued that Gone Bingo is the company's biggest brand, having had relative success since its foundation. Its website describes Gone Bingo as being the 'world's largest bingo room' as well as promising the 'best offers and bonuses' and the 'best games on offer'. Quite some claims.
What else is up for grabs at Gone Bingo? The website also boasts of having guaranteed jackpots and free bingo games - a definite advantage for those players' looking to play bingo without laying down any of their own hard earned cash. There are many links to chat room hosts and help webpages should customers get confused or need any advice about any part of the website. Finally, Gone Bingo promises to be both safe and secure; they guarantee that all cash out requests will be 'prompt' in their delivery; and registered users will also receive loyalty points for repeat use.
The brand get its name from the saying, 'gone fishing' meaning to go on holiday. As a result then Gone Bingo should be the destination of choice should you be looking for a relaxing, fun, vacation-like experience. According to the company's 'About Us' webpage, 'It is our mission to make 'gone bingo' synonymous with online bingo fun and entertainment.'
Head over to the website's testimonials page to catch a glimpse of what fully paid up members of Gone Bingo have had to say about their services!
Navigating Gone Bingo
Registered Gone Bingo users can type in their username and password in the designated boxes in the purple header at the top of the Gone Bingo homepage. This will allow these users to access their account and, most importantly, to play bingo! The Gone Bingo homepage mainly concerns itself with adverts though it is possible to scroll down to see a list of all the bingo games that are about to begin. This list contains all the details you would need about each game from what type of bingo is being offered (75-ball, 90-ball etc.) to how much you will have to pay to enter; from the top prize to the number of players waiting to play.
Other than this handy list, the only other thing of worth on this homepage is the rolling links to the website's top games. Press one of these images to start playing or select the 'Play More Games' link to see more of what is on offer. Scroll back to the top of the homepage to see the main list of tabs that will aid your navigation around the website. The most important of these links is the one entitled 'Bingo' this being the link to the main bingo page. Contained on this page is a list of all the bingo games on offer set out in a similar style to that on the homepage. The only difference is that registered users can not only select the 'Play Now' option but also the 'Pre Buy' button. This option guarantees a customer's place in a game to be held later in the day.
There is very little else on this page though this is useful for those who are perhaps new to online gambling or perhaps new to bingo playing generally.
Once you have finishing playing bingo scroll back to the top of the page and select the 'Slots' tab to see a list of the other types of games that are up for grabs at Gone Bingo. Click through all the various options to find your game of choice, hovering over it to see the links to allow you to play with cash or with BBs.
The final four tabs in the bar at the top of the page are pretty self explanatory; that named 'Banking' deals with such transactions as depositing and withdrawing; the 'Offers' tab deals with the latest promotions (see the final section of this article); and the 'Mobile' tab allows customers to install the software to enable them to play bingo on the go. Finally, should you need it, the 'Support' tab gives all their customers advice be it through their live chat function or their email support method.
Offers and Promotions
Find out about all the latest Gone Bingo offers by moving from the username and password boxes at the top of the homepage to the 'Offers' tab just beneath the latter in the grey toolbar. Clicking on this option will send you to the designated promotions homepage though this is split into a number of sections. The first tab concerns those offers that are updated and changed monthly with the second usually an advert for a similar temporary promotion. Tab number three deals with those 'Best Loved' deals, number four with those 'Deposit Specials' and five with the 'VIP Club'. It makes sense, however, to begin with the final category - those promotions for new players.
Clicking on this rightmost tab will bring up all the details regarding the exclusive offers for new players. The first part of this three part deal sees customers receive a free £15 bonus simply by registering and verifying their email address - no deposit required! Once a £10 deposit has been made Gone Bingo will then add another £40 bonus into your account. This will then be topped up by £1 every day for 60 days after first opening your account. That's a total of £115 free!
Furthermore, customers will get a 300% bonus on both their second and third deposits. A fantastic amount! It is not just on your first three deposits that you will get some sort of bonus though. Press the 'Deposit Specials' tab for more information on how you can get a maximum of a 500% bingo bonus or 150% of your deposit in cash! These reload bonuses merely depend on how much you put into your account with a £10 reload getting you either a bingo bonus of 150% or a 25% cash bonus. A full £500 has to be deposited in order to retrieve one of the maximum bonuses. A table of all the bonuses up for grabs is available on the aforementioned 'Deposit Specials' page.
Tucked between these two tabs is that for the VIP club. Membership to Gone Bingo's VIP club sees customers rewarded the more they deposit. There are five levels that users can try to reach, these ranging from bronze to diamond. Such rewards up for grabs include birthday gifts, exclusive free games and cash prizes as well as weekly and monthly cash back.
Entry into the bronze club will be admitted once you sustain a weekly deposit average total of between £250 and £399. You must have a weekly deposit average of over £2,500 to be able to receive all the treats that go with being a diamond club member. Of course, this scheme is not for low stakes gamblers so may not be any use to you. In such a case, you must then decide whether the remaining promotions are good enough to warrant your signing up to Gone Bingo.
Those offers and deals in the 'Best Loved' section include,
Free cards for the BBS weekly game upon regular entry to the Best Loyalty Lounge.
Cards from just 2p.
A 200% bonus on your last deposit upon playing chat games.
Refer a friend and receive 100% of what they initially deposit and 10% of all other deposits made within the first 60 days.

Further terms and conditions apply to all promotions. Unfortunately, many of these offers do not have specific terms and conditions displayed on the relevant promotion webpage so it is necessary to follow the general 'Terms and Conditions' link at the bottom of the webpage.