PartyPoker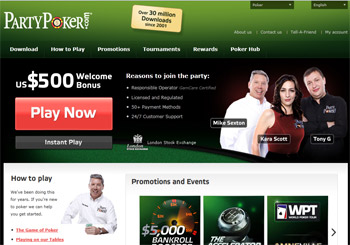 The Story of Party Poker
Party Poker is an online arm of the Bwin.Party Digital Entertainment business, the company having formed after a merger between sportsbook operator Bwin and online poker provider Party Poker. Whilst Party Poker was once the world's biggest online poker brand, it still sits in third position following the merger with Bwin. It currently lags behind market leader PokerStars and close competitor Full Tilt. Despite this, Bwin.Party was reportedly the largest publicly traded online gambling firm in 2010.
The Party Poker brand has been active since 2001 and has grown from attracting just 3.6 million customers to being available in 14 different languages across the world. As well as this multilingual function, Party Poker also host two sister sites for those players playing in France and Italy. These secondary websites allows Party Poker to focus on the needs of their French and Italian customers.
Whilst the company were well known for being the biggest poker website on the web before being usurped by PokerStars, they have also garnered publicity through the typical sponsorship route. In terms of poker, they are perhaps most famous for hosting the Party Poker Premier League since the competition's inauguration in 2007. Away from poker, they have also partnered the World Pool Masters, the Mosconi Cup ('the biggest international team event in the world of cue sports') and the darts European Championship and the World Grand Prix of darts.
Such publicity has seen interest in Party Poker grow as well as the company's number of registered users. For those who are only interested in teaming up with a reputable company, such widespread coverage can be seen as an endorsement of their services. It is, however, always worth trying out their services before signing up.
Navigating Party Poker
Downloading the Party Poker software to your desktop couldn't be more simple thanks to the very clearly positioned 'Free Download' button on the homepage. Clicking this will commence the immediate downloading of this software whilst also taking you to a page that will talk you through the download process. This page also points out the system requirements as well as providing links for 'Instant Play', 'Mobile' and the 'Fastforward App'. These can be found up the right hand side of the page.
Party Poker can be downloaded to both Apple and Android devices, something that differentiates it from some of its one platform competition. The 'Mobile' link is also helpful in overseeing their customers' successful installation of these apps to their devices. Unlike some of their main rivals, however, Party Poker do not have a scannable QR code to speed up the installation process.
The 'Fastforward App' tab gives the customer more information regarding Party Poker's unique new app that allows users to play poker on the go with just one finger. The app works by the customer giving the device a series of commands; swiping your phone's screen allows you to fold whilst tapping the screen twice is the command to check. This app aids the success of users' play on the go, making it quicker and more enjoyable. Check out the relevant webpage, available through the 'Download Now' link to find out whether you live in a compatible territory and see whether you have a compatible device.
All of the above sections of the Party Poker website are also available by hovering over the 'Getting Started' tab that tops the homepage. Should you be new to poker or online gambling, it is probably worth checking out the adjacent 'How to Play' tab before downloading the software to your desktop.
There are various topics discussed in the 'How to Play' section and this should be helpful for any new user. Everything from hand rankings to sit and go tournaments; from the basic rules to Party Poker's missions, is dissected in easy terms so even the newest player on the scene can understand and feel confident in their first game.
Finally, the 'What's Going On' tab not only deals with the promotions and offers available onsite but also with up-coming tournaments and all things Dusk Til Dawn. This is also where you can access the latest forums and a number of other schedules.
Offers and Promotions
Don't be alarmed when you can't instantly find the promotions tab on the Party Poker homepage as it is hidden elsewhere. Simply move your cursor up to the 'What's Going On' link in the top right hand corner of the homepage and hover over it. A drop down box will appear with two options; 'Promotions' and 'Tournaments'. To stay up to date with all the latest Party Poker offers simply click the former.
There are currently two exclusive new customer offers on Party Poker, a good amount considering that some of their rivals don't even have one. The first sees the customer credited with a £10 bonus token upon first signing up to Party Poker, no deposit necessary. Upon placing a deposit of £10 you will then receive a £200 bonus, this being the second new customer offer, meaning that you will have a total of £40 to play with with only £10 of this being your own cash.
Note the questions up the right hand side of the relevant promotion page in order to obtain the key information quickly. For the terms and conditions, simply press the tab that sits above these questions - it has a simply similar to that one you would press should you want bullet points in a word document.
Once you have signed up to Party Poker, you are then eligible to partake in a number of fantastic promotions and take advantage of various exclusive services. Perhaps one of the most popular promotions is the 'Refer A Friend' offering. Invite one of your friends or family members to join Party Poker using the strict rules as set out on the relevant promotion page and upon them depositing money and receiving their own welcome package, you will receive a reward. The downside of this whole deal is that the reward that you will be in receipt of is a secret - not even to be found in the promotions terms and conditions. It is then worth thinking about whether or not you're are happy to refer a friend for a prize that you might not want or think insubstantial.
Another popular promotion is the sit and go bonus. Customers can earn either a $10 bonus or a $25 bonus and $5 cash for performing one of the following tasks.
Play three sit and go tournaments a day for three successive days ($10)
Win a hand with either AA, KK, QQ, JJ, TT ($10)
Eliminate one or more players a day for five days ($10)
Play five sit and go tournaments for five successive days ($25+$5)
Win a hand with any of the following pairs 22, 55, 88, 99 ($25+$5)
Eliminate five players a day for five consecutive days ($25+$5)

The final on-going service concerns the 'casual' tables that see participating players only allowed to be involved in one game at a time. Not being able to join another cash game and playing against others who cannot is probably most beneficial to new players who will want to retain all their focus on their one game. Further terms and conditions apply to all promotions and services.