Crown Bingo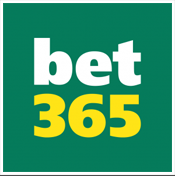 Go To bet365
bet365 World Cup Betting
Popular World Cup Markets
Use bet365 to bet on the World Cup. Here are some of the most popular World Cup 2018 betting markets available at bet365 right now;
World Cup matches
,
Outright Winner
,
Top Goalscorer
,
Stage of Elimination
. bet365 also offer some specific in-play World Cup markets as well.
T&Cs Apply | Gamble Responsibly | 18+ Only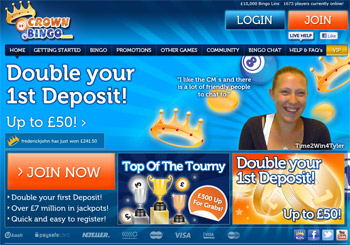 The Story of Crown Bingo
Crown Bingo's website makes a number of big claims regarding the company's success and popularity in contradistinction to the popularity and success of their rival competitors. The bingo operators site tells its customers that it has been responsible for taking online bingo 'to a whole new level' whilst also alleging to be 'one of the most established and reputable' bingo sites on the web. Though it would be hard to argue against such claims, Crown Bingo make no attempt to supply evidence to support their bluster.
The company were first established in 2005 and now currently have 18 bingo rooms currently available for their customers to enjoy. The bingo provided in this room comes in all of the 75-ball, 80-ball and 90-ball formats with the software used by Crown Bingo being supplied by United Kingdom based bingo service provider Bede Gaming. Bede also provide this software to many of Crown's competitors including Mecca Bingo, Grosvenor Casinos and BetUK though the advantage of Crown using their services is that their customers will experience a familiar bingo room that is, above all else, easy to use. Bede Gaming also performed well at the 2014 eGaming Review awards meaning that registered Crown Bingo customers can relax knowing that all their details and hard earned cash are being handled by a reputable company.
Crown Bingo's unique selling point is their multiplayer feature, a service that the company describe as being 'the best on the web'. This feature is complimented by their 'Bingo Studio Live' service, this allowing customers to play 90-ball bingo whilst also winning prizes through taking part in the games that are being hosted in the live studio. There will be more on these features in the following 'Navigating Crown Bingo' section of this article.
Navigating Crown Bingo
Customers log into Crown Bingo by entering their username and password in the designated boxes in the top right hand corner of the website. Beneath these boxes are a row of tabs that aid easy movement throughout the Crown Bingo website. A list of all the latest winners scroll up the right hand side of the game screen with adverts for the company's products taking up the lion's share of the homepage. Beneath these adverts are reams and reams of games available on Crown Bingo with tabs to change the sorts of games you can look through. The categories of games you can play on the site range from slots and table games to instant wins and Vegas events. There is a lack of initial information about these products with the customer having to select the 'Play Now' icon to open a new window and find out more.
Click on the 'Bingo' tab to read about all the different types of bingo that can be played as well as the themes that are also available. Such themes include live bingo hosted by Crown Bingo's in-studio presents, the Deal Or No Deal TV tie-in theme and the Rainbow Riches 42-ball bingo. This Rainbow Riches game offers each registered user the chance to win their very own personal jackpot. Simply click on the relevant game to find out more information. It is also here where you will find a link to play the game in question.
The 'Games' tab in the pink banner lists all of the side games and services in an identical format to the list on the homepage. As previously written, it is somewhat off-putting that Crown Bingo have not got anything in the way of a description about any of these games, players having to click the relevant link to find out how much they are going to have to spend for example.
Finally, in the row of tabs at the top of each page, is the 'Help' link. This leads all users to an exhaustive list of frequently asked questions with links to allow customers to use the email and live chat functions hovering above the 'Help' tab at the top of the page.
Offers and Promotions
Select the promotion tab from the list of tabs at the top of Crown Bingo's homepage to be taken to the website's dedicated promotions page. These promotions are separated into four categories; Welcome Offers and VIP Treatment, What's Hot and Roomie Fun. Click on one of these four categories to see the relevant promotions that fall beneath these umbrella titles.
There is just one promotion for new customers to take advantage of and this can be accessed through the Welcome Offers portal. Crown Bingo promise to match every new customer's first deposit up to the value of £50. This bonus cash is added to your account automatically and can be used straight away. Whilst there is no doubt that this is a very generous welcome deal, it does not really compare with those new customer promotions being offered by Crown Bingo's rivals. It is worth checking out their competition before settling with Crown's services.
By clicking through to the offers contained behind the VIP Treatment tab, you will be able to find out about Crown's loyalty scheme and the benefits to signing up to their VIP Club. The associated VIP games usually take place on Tuesdays and Wednesdays though can only be accessed should you fulfil the qualification criteria. This criteria usually states that you must deposit a certain amount of money before being allowed entrance through to the VIP rooms. The company have a designated VIP manager who can answer any questions regarding these special rooms or the scheme as a whole.
Behind the 'What's New' tab are various games and promotions that have just been conceived by Crown Bingo. At the time of writing perhaps the biggest promotion that can be found on this page is the £1 million slot spectacular. This promotion sees users given a ticket to a slot spectacular room every time they deposit £10 and spend this money on slots. The prizepot will increase every week with the final pot in the set period of time being worth £400,000. Whilst the What's New tab houses similar offers that too are only up for grabs for a limited time, it is also where you will find information on a number of long running features including,
The all-new 42-ball Rainbow Riches bingo room based on the arcade game of the same name.
The Breakfast Club that sees customers in with a chance of winning a maximum of £75 should they enter a room between 6am and 9am of a morning.
The chance to win £1,000 every Tuesday thanks to the Money Ladder bingo game. Available from 6pm to 10pm. Finally, Roomie Fun is the tab that you will want to click on should you want further details on the schedules concerning these promotions. You can also learn about previous winners and how to play free bingo.
Further terms and conditions apply to all promotions and services. Unfortunately, there are no terms and conditions solely pertaining to these promotions and offers meaning that it is necessary to scroll to the bottom of the page and select the 'Ts&Cs' link. From here you will then have to scroll all the way through the terms and conditions to find those concerning promotions.