Sun Bingo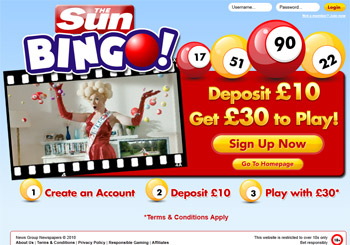 The Story of Sun Bingo
The Sun Bingo is another gaming site that has the backing of a huge newspaper corporation. Founded in 1964 and a product coming from Rupert Murdoch's News Corporation, The Sun has the second biggest readership in the United Kingdom after the Daily Mail. The Sun Bingo then looks to capitalise on this vast number of readers, trying to attract them to their bingo service. It was re-launched by platform operator Gamesy in 2008 and has since become one of the most decorated online bingo services. The website was previously operated by Tombola.
According to the Sun Bingo website, their brand of bingo won the BingoPort award for Best Overall Bingo Site in 2013 as well as scooping a prize for the Best Online Bingo Promotion. A year later at the Which Bingo ceremony they would take home the gongs for the Best Online Bingo TV Ad and the Best Online Bingo Chat Team. The Sun Bingo's chat team would be awarded again this year, taking home a similar prize at the BingoPort awards ceremony. New customers should always bear in mind a company's reputation before registering with them, the Sun Bingo's being first class amongst their peers.
Both the acclaim lauded upon the Sun Bingo and the publicity opportunities afforded in their sister newspaper have had a fantastic effect on the brand. The Sun Bingo now claims to be 'one of the United Kingdom's biggest bingo sites'. This is quite some feat after just under seven years in operation. Is this title deserved and should you grace the website with your presence? We tested out the site to see all the advantages of being a registered user!
Navigating Sun Bingo
Registered Sun Bingo users can type in their username and password in the designated boxes at the top of the Sun Bingo homepage. This will then allow them access to their account as well as allowing them to take part in the bingo and slot games. Those users who want to check out before they register are welcome to do so. The easiest way of doing this is with the list of tabs at the top of each page.
The Sun Bingo homepage offers advice on how to register to play bingo before offering an explanation as to the different types of games. Some of the winners of the big jackpots are also listed between the game explanations. This offers punters some hope that it might just be them who are the next in line to win big!
Whilst you scroll up and down each page, you will notice the timer in the top left hand corner. This will inform you of when the next bingo game will begin, the 'Join Now' button registering you for this game without any fuss.
Back to the tabs at the top of the page, the 'Play Bingo' and 'Play Slots' tabs are those you will need should you want to get involved in any of the games on the site. Whilst the former is only available to those registered Sun Bingo users, the latter can be accessed by all customers. Indeed, those without accounts can actually play these games for free thanks to the 'Fun Play' option. This will open a new window and allow players to try before they buy. These slots games are also accompanied by a short summary of what can be expected in each game, valuable information for those customers who may not know what they are getting. Surprisingly, this information is not always provided by their rivals.
Back to the tabs at the top of the page, that entitled 'Winners' is a list, with photographic evidence, of all those players who have won big with Sun Bingo. The prize amounts on this page range from £1,000 to £10,000!
With the 'Promotions' tab explained in the last section of this article, the remaining three are self explanatory. The 'Chat' tab allows customers to find out about their hosts as well as allowing to read about chat room etiquette; the whilst the 'Contact Us' and 'Help' tabs are important in helping those users who may need some advice. Provided here are links to email addresses, frequently asked questions and their useful live chat function.
Offers and Promotions
Check out all the offers, deals and services that Sun Bingo has to offer by heading over to their homepage and clicking on the 'Promotions' tab in the yellow banner that stretches across the top of the page. By doing so you will be taken to the promotions homepage where all these exclusive features are laid out. It seems important to first explain what is in store for new customers in the shape of their new user welcome package.
In this regard, Sun Bingo are giving all new customers a 300% bonus on their first deposit. To be eligible, each new user should load their account with at least £10 with the maximum bonus that can be given away being £300. The bonus you receive will be taken away from you should you fail to use it in its entirety within 30 days. Furthermore, it is necessary to wager twice the value of your bonus before you can withdraw it from your account. Again, this has to be done within the first 30 days of your account being activated should you not want it being removed by Sun Bingo.
Not all games contribute towards these wagering requirements so it is important to check out the table that can be found in the promotion's terms and conditions. These are available to read next to the relevant advert on the Sun Bingo promotions page.
In your first seven days of signing up to Sun Bingo, you should check out the 'Learner Room' where you, as a newly registered player, can enjoy free bingo for four hours a day (between 11am and 1pm and 6pm and 8pm).
Should you sign up to Sun Bingo and end up enjoying your time with the bingo site, why not recommend it to your friends? By doing so, should you follow the procedure laid out on the relevant webpage, you will receive a £20 bonus. There is no limit as to the amount of people you can recommend Sun Bingo too though your friends must wager a minimum of £40 before you will receive your refer a friend bonus. Your friend will also receive their welcome bonus whilst also being able to check out the learner rooms.
Another service provided by Sun Bingo is the 'Breakfast Club' where early risers can play bingo from 7am right until 9am, fantastic should you want to get your bingo fix before you head to work. What's more, play bingo in the Lollipop room on a Wednesday and you could be in with a chance of picking up a cash prize or the chance to open a mystery box containing an unknown prize. One person is chosen every hour to receive this fantastic opportunity.
Finally, all those players who manage to seal a line, two lines or a full house will secure a guaranteed £100 cash on a Friday, Saturday or Sunday. This offer is available in either of the Candy Club and Romance Club rooms. Further terms and conditions apply to all promotions, with more deals up for grabs on the aforementioned promotions webpage.