Betfair Casino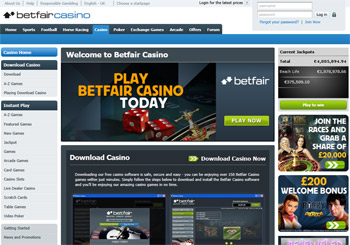 The Story of Betfair Casino
Betfair is not just a exchange provider - rather it is a group that encompasses a number of business interests and fringe operations. Beneath the Betfair banner comes its sportsbook and casino services - the latter of which we are most interested in - as well as owning the American horse racing brand TVG, Tradefair Financials and Timeform.
The firm began as an exchange business in 1999, set up by punter Andrew Black and City businessman Edward Wray. It became the first to offer in-play betting and was subsequently Europe's largest IPO company of its kind when floated on the London Stock Exchange in 2010. This popularity and publicity allowed Betfair to expand into what it is today.
At Betfair Casino customers are welcome to partake in a number of games, everything from tables to card games; from video poker games to arcade games; from jackpot games to slot machine simulators. Such a vast selection of offerings makes Betfair one of the largest online casinos currently available on the market.
These various features and games - some of which are exclusive to the operator - has seen Betfair accumulate just under 950,000 customers in its 16 years of trade. As a result, the company's website boasts of having recorded revenues of over £387 million in FY13.
Their success in establishing the Betfair Casino whilst also managing their bookmaking empire has seen Black and Wray twice rewarded with the Queen's Award for Enterprise in the Innovation Division. The pair won their first award in 2003 before picking up their second just five years later. Such double triumphs are relatively unheard, something that should encourage all potential Betfair Casino customers.
Navigating Betfair Casino
Thanks to its secondary header, navigating Betfair Casino is fairly easy indeed. To find this header, simply look beneath both the large orange header at the top of the page and the over-sized advert that takes up the top portion of the page. It is beneath this advert where you will find the secondary list of links.
Next to the already highlighted homepage icon will be the 'Download' link. This is how you will get the Betfair Casino software onto your desktop. Pressing this tab will just open a file onto your computer. Unfortunately, unlike some of their rivals, Betfair Casino do not provide a guide or list of instructions to ease customers into this process. In any case it really is rather easy.
To find out how to get the Betfair Casino app to one of your mobile or tablet devices, simply click the 'Mobile' link from the secondary header. This is to the right of the 'Promotions' tab, more of this in the next section. By choosing to navigate to the 'Mobile' page, you will see a QR code that you will be able to scan as well as a number of other links to allow you to download various different apps.
The other tabs on the secondary header on the Betfair Casino homepage allow the customer to navigate to their game type of choice, be this 'Slot Games', 'Live Casino' or 'Table Games' among others. By pressing on the 'Play' button beneath your desired game, you will open a new window. This window will be where you will be able to play your game and bet the funds that are in your account.
Sign in to your account by typing your username and password into the designated boxes in the orange header at the top of the homepage. This will then allow you to play the full range of games as well as allow you to update your funds and type in bonus codes.
Offers and Promotions
To view the deals and offers currently available on Betfair Casino, simply click on the 'Promotions' tab that sits on the secondary toolbar beneath the advert on the Betfair Casino homepage. This tab will say 'Promotions' with the number of available deals and services displayed next to it. At the time of writing, there are four offers up for grabs.
Three of these four promotions are for new customers, which will obviously be attractive to new players but perhaps less so to those established punters who have committed to Betfair Casino. Before signing up to Betfair Casino think about how you will feel after a few months of service when your original welcome offers have worn off and the company have no more promotions to thank you for being a valued customer.
The first new player welcome offer is a £5 bonus that can be used on the large array of slot machine simulators that the company has on offer. There are currently around 150 available games on which this bonus can be used - view these games by selecting the 'Eligible Games' drop down menu - as well as extensive terms and conditions in the form of a Q and A. These terms will tell you that you must verify your account before receiving your bonus and that this bonus will only be available for day days after the opening of your account. There are a lot of terms and conditions for such a low reward offer so it is your job to balance the potential benefits (the £5 bonus) with the potential drawbacks (having to use it within such a short period of time).
There are a further two bonuses on offer for new players - one for games and one for the live casino feature. Unfortunately, new customers will have to choose which deal will be more useful to them as it is not possible for one account to reclaim both rewards.
The games option - which can be used on a wide range of 200 games - is a 200% matched bonus on first 'buy-ins' with a minimum value of £10. Betfair Casino will then give you a 200% bonus up to £300. As with the first £5 bonus offer, there is an in depth coverage of all the necessary terms and conditions in the relevant drop down box through the 'Promotions' link. It is absolutely crucial that you take advantage of how readily available these terms are and read them through thoroughly before committing yourself to this offer.
New customer bonus option two is the liver casino offer where new players can receive a 100% matched buy-in on all live blackjack and live roulette games up to the value of £200. The minimum buy-in here is £20 with customers having to bet their free buy-ins at least 60 times before being able to withdraw it from their account. Again, the terms and conditions are extensive and should be viewed before this offer is committed to.
The only non-new customer offer up for grabs at Betfair Casino at the time of writing is the 'Bookings Blackjack' deal that sees users entered into a draw to win a bunch of Apple goodies should they find a yellow card in their blackjack game. If they receive a red card, they will be in receipt of a £5 casino bonus. Whilst this is not a long running competition, make sure you keep checking the 'Promotions' page for such replacements. Terms and conditions apply to all promotions.