Casino-on-Net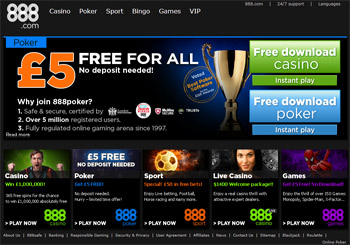 The Story of Casino-on-Net
Casino-on-Net is one small part of the bigger 888 Holdings company. Founded by Richard Kilsby in 1997, 888 Holdings not only runs Casino-on-Net but also 888Bingo, 888Casino and 888Sport. Casino-on-Net actually preceded the formation of all of these subsidiaries though is now probably the less well known.
On the 888Sport website, the company boasts that Casino-on-Net is 'a powerful force in the online gaming industry' with over 100 different games for their customers' delectation. These games range from everything from table games to card games with a large section dedicated to the different types of poker and video poker. Registered users can also play a number of slot machine simulators - some of their games and slots differentiated by exclusive themes and backgrounds.
It has to be said that Casino-on-Net experienced its best ever year in 2007, its website still being adorned with the emblems of those awards it won in that year. Its 10th year of trading, 2007 saw Casino-on-Net take the prize for the top casino as well as that for the website with the best skill games. These plaudits were handed out by the eGaming Awards. The company's umbrella brand - 888 Holdings - claims to promote responsible gaming and gambling. The firm's website states that such an attitude 'places the customer at the centre of all endeavours'. By way of committing to this promise, 888 Holdings trains up all their staff to spot and to deal with those users whose betting and gambling may become problematic or worrisome. This should not be a concern to any potential new customers, rather it should be a feature of Casino-on-Net that many new customers are grateful for.
Navigating Casino-on-Net
There isn't really a Casino-on-Net homepage to negotiate, rather just a large advert for the company's latest promotion. It is possible to get to something resembling a homepage using the tabs at the top of the page. Selecting 'Play Now' will open a new window into which you will have to type in your username and password to take a look at all the games on offer and start gambling the funds in your account.
Should you be new to online betting or Casino-on-Net, perhaps you may find it beneficial to first select the 'Getting Started' tab. This lays out, simply but helpfully, everything from how to download the software to support Casino-on-Net should you want to, to registering for their online services. This guide is breathtakingly concise and is split up into seven easy steps. The company even include images in their guide to further aid their customers in the process of getting started on the site.
The 'Real money' tab is another must-read should you be new to such online gambling or perhaps hesitant as to where your money will go when you deposit it into your Casino-on-Net account. Again the information is broken down into easy to read chunks and - I'm sure - such a transparent approach will not only allay customer's fears but positively make them more inclined to register with the casino service provider.
We hope this guide will give you everything you need to know when it comes to taking advantage of Casino-on-Net. Should it not for any reason, or should the information we give you seem to not tally with what you are seeing on-screen, you will be able to use the company's 'Contact 24/7' tab to either call or e-mail one of their members of staff at any time of day. It has to be said, however, that it would be nice if Casino-on-Net had a live chat service, something that their rivals may have over them when it comes to customer service.
The final listed tab concerns all things 'Live Casino' and houses all relevant information regarding how their live casino service works. The page is split into four sections - see the tabs up the left hand side of your screen - 'Live Casino', 'Live Blackjack', 'Live Roulette' and 'Fashion'. Casino-on-Net once again walks their customers through each game type as well as the 'fashions' of this type of gaming. Their simple approach to these guides means that I would recommend Casino-on-Net to anyone new to the world of online gambling.
Offers and Promotions
Find out information regarding all Casino-on-Net's key services and deals by selecting the 'Promotions' tab in the gold toolbar at the top of the Casino-on-Net homepage. These promotions are split into a series of groups; everything from 'New Player's Promotions' to 'Hot Promotions', from 'Comp Points' to 'VIP and High Roller Club'. Whilst some of these promotions are one-offs, deals that are just valid for a short period of time before being replaced; we will just be focusing on those long-standing recurring offers and services.
The best place to start is with the new customer deal. This comes in the shape of a 100% bonus on deposits from £10 to £300, meaning that if your first deposit is £300, it will be matched by Casino-on-net so you will have £600 to play with. This is obviously a terrific deal.
This offer's terms and conditions can be found on the relevant promotion page that can be found through the 'Promotion' link at the top of the homepage. Such terms include the new player having to play with their matched deposit at least 50 times before it can be withdrawn or transferred, though there are exceptions to this rule. Simply see the table of wagering contributions as laid out in the terms and conditions to have a look at how these affect your wagering requirements. It is well worth taking a read of these terms and conditions to see if the advantage of opening up a Casino-on-Net account outweighs those disadvantages of the new customer bonus.
Becoming a signed up Casino-on-Net user will then enable the customer to exploit a number of other promotions exclusive to users of the website. The first of these is the 'Sunday Funday' feature that allows all punters who deposit on a Sunday using the code 'fun888' to receive a raffle ticket and play any game with any amount to confirm your entry. One hundred of these players will then receive one of the following prizes -
1st prize - £500 FreePlay bonus
2nd prize - 10th drawn - £50 FreePlay bonus
11th drawn to 100th drawn - £20 FreePlay bonus
Such terms and conditions include these bonuses having to be played with 30 times before being withdrawn or transferred. They also become invalid after seven days. More terms can be found on the relevant promotion page through the 'Promotion' link.
The final long running service provided by Casino-on-Net is the 'Comp Points' reward scheme. Comp points are distributed after every games played, with these accumulated points being cashed in for a bonus reward. In Britain, every £10 that is betted sees a return of 1.5 comp points with every 150 comp points collected having the value of £1. As you can see, a lot of games have to be played in order for your comp points total to be worth any reasonable amount, though if you feel as though you are going to be using your Casino-on-Net account regularly, it is probably worth signing up to redeem the comp points. Terms and conditions apply to all promotions.