InterCasino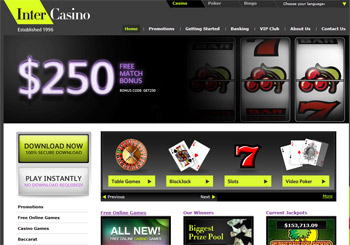 The Story of InterCasino
InterCasino was founded in 1996 and took its first bets soon after. Unlike its main rivals, the company is solely interested in casino games - having not yet made a foray into the world of sports betting or the like. It does, however, have similar sites concerned with such things as poker (InterPoker) and bingo (InterBingo).
The founder of InterCasino was charged in the United States with taking illegal online bets. It is worth pointing out that the website - and all associated brands - are now in news hands and have not face similar accusations or legal action since.
In fact InterCasino has gone from strength to strength since the change in ownership. The brand won 'Top Online Casino' for four years running at the Gambling Online Awards. InterCasino first picked up this honour in 2002 and last earned the title in 2006. The brand came in second place in 2007, just pipped to the post by 888 Holdings.
The InterCasino name is also well known thanks to the success of their customers, some of these players picking up the largest prizepots in the history of online gambling. A player once used InterCasino's Millionaires Club slots to scoop a windfall of just over $1.5 million. Later, in May 2007, another similar registered user would scoop a life-changing $8 million through InterCasino. Such success stories should fill potential new InterCasino customers with glee.
According to their website, InterCasino put integrity at the heart of each game stating that they 'guarantee that every card and number that is generated within InterCasino is completely random and our number generator is verified and endorsed by an external body.' This is absolutely something to consider when choosing which casino provider you will be playing with.
Navigating InterCasino
The first thing you will notice about InterCasino is that it is a very busy environment. Lucky for those just thinking that same thing, you will notice the help function down the right hand side of the homepage. By typing in your name, email address and question, you will be able to chat to an online adviser, who should be able to iron out any issues you may have. Click the link beneath this to read a list of Frequently Asked Questions - this will open a new tab.
Also up the right hand side of the page is a quick catch up as to how the progressive jackpots are getting on - use this to see how quickly these prize funds are increasing. Beneath this are the names of all the biggest winners of the last few hours and minutes. To the extreme right are function tool to enable customers to make quick deposits, as well as there being icons so they can keep an eye on their favourite games and those games that they have been playing the most recently. These bookmarks aid quick navigation to those games that customers might want to play.
The main body of the InterCasino homepage deals with a list of featured games alongside adverts to their most popular promotions. To navigate away from this homepage and start playing the games on offer, you will have to use the toolbar at the top of the page.
The 'All Games' tab will lay out every available game to allow those with time on their hands to peruse what is provided by InterCasino. The thumbs up button allows customers to like the games in question with these likes being accumulated so that other users can see which games are the most popular. Select the 'I' button to find out more about the premise of the game as well as the sort of skills you will have to deploy to win big.
Back to the toolbar, the other tabs from 'Slots', 'Blackjack' and 'Roulette' to 'Table Games', 'Video Poker' and 'Live Casino, work in the same way as the 'All Games tab. They allow the customer to have a look at what is on offer but within the confines of the category that they have clicked on. Again this is useful for those who may not have a lot of time to spare.
Above this tool bar are four more tabs. Customers can log in using one on the extreme left, this being flanked by the games tab - the home of the games homepage. To the extreme right is the sign up button and, to its left, that tab concerning the latest promotions. Learn more about these offers by reading on.
Offers and Promotions
Next to the sign up tab at the top of InterCasino's homepage, you will see another tab marked 'Promotions'. This is where you will discover all of the deals and services that are offered by the company. Clicking on this tab will change the header beneath it, select 'InterPromotions' to find the list of the current deals and services on offer.
The best of these promotions are the three bonuses that are up for grabs for new customers. Offer number one is the 'Free TV Tenner' deal that sees new users get a £10 free bonus upon registering their new account. There are numerous terms and conditions that should be eyed up before committing yourself to this deal. Such terms include the seven days that the customer has to claim their free cash and the 50X wagering requirements that are enforced. This bonus money cannot be used on the jackpot slot games.
Welcome offer two of three exclusively deals with those interested in playing slot machine simulators. InterCasino promise to match the first three deposits staked by a new customer who has claimed this bonus from the 'Available Bonuses' section of their account. Deposits must not exceed £200 in value and must not be any smaller than £25 with other terms outlined on the relevant offer's promotion page.
Similarly, new users can get their first three table games deposits matched once they have selected the relevant deal from the 'Available Bonuses' section of their account. This deal works in exactly the same way as the former though these three deposits must not exceed £100 in value.
Users will receive bonuses on just their first three deposits and not their first six. They can either limit themselves to one of the two offers or mix and match between the slots welcome offer and the table games welcome offer. They cannot exhaust one promotion and then start on the other.
Once you have taken advantage of these welcome promotions, they are numerous other long standing deals to reward long term InterCasino users. Alongside their offering of short term offers that are replaced on a weekly or monthly basis, InterCasino have schemes such as the InterPoints scheme which recur weekly and upon which customers can rely. The InterPoints scheme sees customers earn points as they play, later being able to convert these points into real cash which can be played with once again or withdrawn. A player's £10 wager is worth anything up to 2.5 InterPoints with 100 of these InterPoints seeing you with an extra £1 in your account. As it is going to take a lot of playing to redeem just £1, this offer is only going to benefit regular InterCasino users.
Finally, the company's 'My Bonus For Life' promotion sends users tailor-made promotions to your e-mail inbox for the duration of your using your InterCasino account. Make sure you keep playing with InterCasino to be in receipt of your e-mailed bonuses! Terms and conditions apply to all promotions.