bwin Poker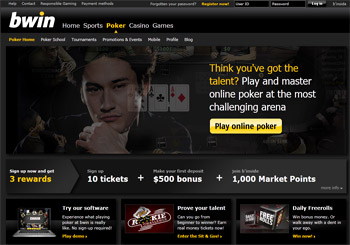 The Story of Bwin Poker
Bwin's website boasts of being the number one in online gaming. The Bwin brand brings together a number of different revenue streams from a sportsbook to a casino to poker; the latter of these aspects being the thing we will be focusing on in this review.
The firm is part of the Bwin.party digital entertainment group, an umbrella company that also encompasses Party Poker, Party Casino and Foxy Bingo. Bwin was founded as Betandwin in 1997 and later merged with the Party Gaming company to form the biggest publicly traded online gambling firm. This merger took place in 2011.
Customers can visit Bwin Poker to play any of the following types of poker game; Texas Hold'em, Omaha, Seven Card Stud and Five Card Draw. Not only are these available online but also through mobile devices and tablets. The company's iPhone and Android apps, which were established in 2011, allow for real money poker. Neither can be accessed in those countries and territories where such gambling is illegal or prohibited.
Like many of their online rivals, Bwin have benefitted from various sponsorship opportunities. Whilst they have been the partners of the World Poker Tour, most of this sponsorship has been focused at football teams and events. Bwin are the official online partners of Premier League side Manchester United and have also been the sponsors of European powerhouses AC Milan, Bayern Munich and Real Madrid. With a global focus, Bwin were also the sponsors of Italy's second tier of football - then known as Serie Bwin.
On their website, the Bwin.party entertainment group acknowledge the need to be 'a leader in responsible gaming' citing this need being 'fundamental for [their] long term success.'
Navigating Bwin Poker
The Bwin Poker homepage tends to look a little over-facing to new customers though it really is simple to use should you explore it in chunks. The first important chunk is the toolbar at the top of the page. This is essentially a list of those links that you may want to find quickly - if not immediately. They range from the 'What's New' tab that displays any new features that have been added to the poker software, to the 'How To Play' tab that not only gives instructions on how to play poker but also helps new Bwin Poker users negotiate their website and exclusive features.
The 'Tournaments' tab explains to customers the different types of tournaments on offer and how they can use the sorts of tournaments they play in to their advantage. The information given on this website ranges from the basic to the expert. Finally, there is the 'Promotions' tab - for more information see the next section of this review - and the 'Profile', 'Friends' and 'Mobile' tabs. The first of these gives information regarding your poker playing technique, with the second concerned with any friends you may have made whilst playing in tournaments. The 'Mobile' tab directs the customers through how they would go about installing the Bwin Poker software on their Android and IOS devices.
Back to the poker homepage, beneath the series of tabs you will be able to see a big advert and, to the right of this, a list of all the biggest winners over the past hours. Beneath this will be a running monitor clocking how many people are currently playing - important should you want to maximise your winning potential.
Scroll further down to see links to how to download the poker software your windows desktop. By pressing the download button, not only will the set-up begin immediately, it will also transport you to a new page where you are guided through the installation process.
Selecting the 'Play Now' button next to the 'Download' button will allow customers to play poker online and without the need for a download. Selecting this button will open a new window, this being where you will play your poker games. Beneath these links at the bottom of the homepage are links to strategy guides and how to manuals. There's also a poker blog and a running commentary of highlights. There is also a clearly indicated support icon should you need more help or should something come awry during the installation process. There are also adverts to all the latest promotions.
Offers and Promotions
To see all the offers and services that are up for grabs at Bwin Poker, simply click on the 'Promotions' tab on the secondary toolbar on the Bwin Poker homepage. This will then allow you to view a whole host of deals, offers and services.
Unfortunately, you will note that there is no new player bonus available to potential new customers and so there is a decision to be made; do you forfeit such a bonus for the vast number of other promotions that are being offered, or do you choose to go with a different poker provider with a big new customer bonus but perhaps a smaller array of deals? Most of the promotions on Bwin Poker are one-offs, available for a limited period of time before being replaced. There are though a series of long running deals that should interest poker fans everywhere.
The first of these recurring deals is the 'Casual Cash Games' promotion. This particular feature enables customers to just play one poker game at a time. Such a feature should be taken advantage of if you have a very limited concentration span and if you are worried that you might get distracted by playing multiple games. These 'Casual Cash Games' are only available to those playing no limit Texas hold'em but are up for grabs ever day of the week.
Another recurring feature is the World Poker Tour steps challenge that can see punters of any ability work their way up from being a beginner to 'the highest ranks of live tournament poker'. These games start from as little as 10 points with a new level being unlocked in accordance with the position you finish and which of five steps you are playing at. A full table of such information is available when clicking on the 'World Poker Tour Steps Challenge' link on the 'Promotions' page. These games are no limit hold'em sit and gos with further terms and conditions available.
Bwin Majors are those headline tournaments with big prizepots and a big dose of excitement! What's more, they are available to play every day and concern both hold'em and Omaha poker types. Find a schedule and list of terms and conditions by clicking on the 'Majors' link on the 'Promotions' page.
Finally, make sure you are ready to play Bwin Poker on the go with the company's iPhone and Android application. The app supports most sit and go games and gives the users the ability to rejoin tables should the app have previously been shut down. As with all these services, find more information through the 'Promotions' page accessible through the secondary toolbar on the Bwin Poker homepage.
Terms and conditions apply to all promotions. Unfortunately for customers interested in reading up on such terms, by selecting the relevant link you are taken to a general list of promotion terms rather than to a list of terms that focus on the promotion that you are interested in taking advantage of. Whilst these lists are comprehensive, they are not at all very user friendly.