Everest Poker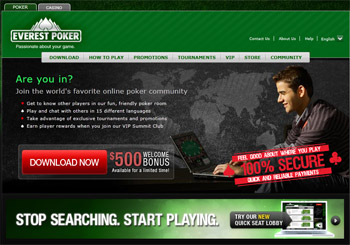 The Story of Everest Poker
The Everest Poker brand was founded and is still run by software developer GigaMedia Limited. GigaMedia were themselves founded in 1999 and are most closely associated with the Asian market having its headquarters in Taipei in Taiwan and being regulated under the laws of Singapore. The company have found success on NASDAQ - the New York stock exchange.
Despite its founders' basis in the East, Everest Poker is a multilingual poker service provider and serves a number of countries across the world. In this regard, they have been part of the highly reputable iPoker network for just under three years (since 2012), this meaning that the customer can take advantage of familiar online poker surroundings and Everest Poker can benefit from the ease of employing a well worn and well loved interface just emblazoned with their logo. The iPoker brand, a division of Isle of Man company PlayTech, is the third biggest online poker software provider in the world.
Consequentially, Everest Poker customers can either choose to play their latest game online or decide to download the Everest-iPoker software to their Windows computer's desktop.
The company are most probably best known for their sponsorship commitments. Everest sponsored the World Series of Poker tournament in both 2008 and 2009, these competitions' Main Events being claimed by Peter Eastgate and Joe Cada respectively. As well as this short term deal with the World Series of Poker, in 2014 Everest Poker also signed a deal to partner British player Sam Trickett. Trickett has been just one of many players that the brand have sponsored over the years.
Away from poker, Everest were the main sponsor on Lyon football club's away jersey for the 2010/11 season. Their sister company Betclic, appeared on the French team's home shirt.
Navigating Everest Poker
It is really easy to download Everest Poker to your desktop, but first you must register. This can be done by utilising the red button that sits next to the username and password boxes for already paid up members of Everest Poker. Once this is done, you will then be able to successfully press the 'Download' tab in the green banner at the top of the homepage. By doing this you will immediately start downloading the necessary software to begin playing Everest Poker.
The green banner in which the 'Download' tab sits is a useful source of information and should be checked out either before you begin downloading the software or before you start entering the poker rooms. The 'Getting Started' tab simply sheds more light on how new customers can register and how they can claim their new customer bonus. For more information on this, simply jump to the next section of this review.
Not only is there a link to a software tutorial in the 'How It Works' tab, there is also an explanation of how to successfully put funds into your account as well as how summit points work. Summit points are Everest Poker's reward scheme that allows users to trade in their points for prize, with them earning points every time they play. You can receive 12 summit points every time you lay down £1 though again, there is more information concerning this in the next section of this review.
The next most important tab that isn't covered in the final section of this article is that concerning tournaments. This tab allows customers to see, and subsequently register on, a list of all of the day's coming tournaments and events. This list is set out in a table format with the tournament name being leftmost and the information about whether or not you can re-buy being rightmost. In between these two pieces of information are stats concerning when the tournaments start, how much the buy-in is as well as the fee and the game type. Move your cursor over to the arrow next to the tournament name to reveal other such information as when registration for the tournament opens and how many players are currently registered.
The table format allows this information to be clear and easy to understand for first time Everest Poker users. Make sure you read all of the house rules in the relevant tab before starting your first game. Unlike the table formation of the 'Tournaments' tab, the information discussed in the 'House Rules' tab is not that easy to read. It is though extremely informative. Any questions from here can be answered by clicking the 'Contact Us' tab, this service providing an FAQ, an email function and a webchat feature.
Offers and Promotions
From the Everest Poker homepage, select the 'Promotions' tab using the banner at the top of the page. This will then reveal a drop down menu from which you can select an individual offer or service, or you can select the 'View All Promotions' tab. This tab will allow the user to see, in list form, all of the exclusive promotions offered by the poker service provider.
Once you have found an interesting promotion, simply click on the 'More Information' link to study what it involves and what terms and conditions might be applicable.
Firstly, it is probably best to explain the new customer deal. All newly registered users to Everest Poker will receive a package of gifts that Everest describe as being 'the best around'.
The initial reward is a free €10 (or your currency equivalent) upon opening your Everest account. This comes in the shape of five €1 tokens and one €5 token to be used in cash games. Following the spending of this initial reward, you will then receive a massive 200% bonus on your first deposit up to the value of €750! This means that if you did make a €750 first deposit, you would receive another €1,500 on the house. Finally, new customers are also treated to a token to allow them into either a Monday or a Friday €2K freeroll as well as 20 reward points that can be traded in for cash rewards or for entry into exclusive tournaments.
There are plenty of terms and conditions when it comes to the welcome package, especially to do with the 200% bonus. It is worth bearing in mind, for example, that this bonus is released in three stages with further information on what these stages are being clearly stated on the Everest new customer package webpage. Note the terms and conditions tab at a third of the way up the page. Simply click this to find out more information on any part of the welcome package offer. Whilst the terms are clearly important and useful, they are not written in a way that aids easy reading. Once you are signed up to Everest Poker, you will then be able to take advantage of the other offers and services up for grabs. The 'Promotions' webpage has two columns, one listing all the current promotions and another listing those ongoing deals. As those highlighted in the former are somewhat transitory, this article will just deal with those in the latter. Some of the promotions currently listed in the recurring deals column include,
The 'Sunday Line Up' which sees over €270,000 up for grabs every Sunday.
Their VIP rewards scheme allowing customers to earn 12 points for every £1 they spend.
Tokens distributed to those players who deposit either €20 or €100 into their account as part of their 'Depositor Rewards' scheme.
The 'Steps Challenge' that allows players to unlock places at big money tournament tables from as little as €0.50. Customers must climb the six steps for a place in one of the high stakes tournaments.
Further terms and conditions apply to all promotions and services.