PKR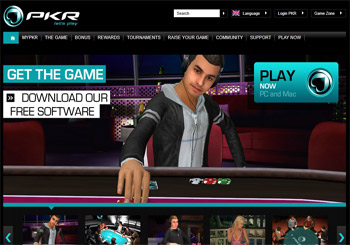 The Story of PKR
Whilst all poker websites and brands claim to be innovative and unique, there is perhaps no more unique online poker service provider than PKR. Based in the United Kingdom, the website allows its registered users to play in what is described as a 'virtual reality' location.
This means that each player's avatar is three dimensional with each of these characters being able to be customised to the users' specifications. Not only do the characters look 3D, they are also endowed with characteristics such as tells, expressions and chip tricks to give them an element of personality and to add to their body language.
PKR was launched in 2006 and has grown year-on-year since its establishment nine years ago. Their services are provided by PlayTech, the Isle of Man firm behind the iPoker business and other such sports betting, casino and bingo operators. The collaboration in 2007 was considered a great success by customers and the media alike. In the same year Poker Europa described PKR as being 'simply superb' stating that 'every online player should try this game'. This review followed previous testimonials including those from Poker Player who said that 'the future of online poker is here' and Flush who anticipated that the site would 'change the face of internet card rooms forever'.
In an effort to build on this good feeling, PKR has continually tried to bring more publicity to its services through sponsorship deals and campaigns. PKR has sponsored a number of talented poker players in its recent history, having names from Jake Cody to Scott Shelley on their team PKR roster. Despite this, perhaps these players' fame outside of poker circles has not had the desired effect in bringing in even more new registered users.
Navigating PKR
PKR have made it easy for potential new customers to download their software to their desktops. Should you be interested all you have to do is click on the 'Play Now PC and Mac' icon in the upper right of the homepage. This will then take you to the registration form with the installation process beginning once the terms and conditions have been agreed with and other such details have been entered. Should you linger on one of these pages for too long, you will be asked whether you want a webchat with one of PKR's members of staff. Such a prompt should reassure new online gamblers and those new to PKR.
Alternatively, should you be looking to play PKR poker on the go, simply click either the 'Download on the app store' or the 'Download for Android' icons. These will then open new tabs with the relevant details to guide customers through the installation process.
Signing up to PKR, whether on your computer or mobile device, will then allow you to alter and change your 'My PKR' account found in the relevant tab. This is where you can stay up to date with your tournament history as well as being able to update your avatar and stay in touch with those friends made in the poker rooms!
Whilst those 'Bonus' and 'Rewards' tabs at the top of the page correspond to the final section of this review (See 'Offers and Promotions'), the 'Tournaments' area houses such useful information as schedules, prize pools and headliners. This is also the relevant section for such things as finding out about poker points.
Another useful resource unique to PKR is the 'Raise Your Game' tab where players can pick up tips to put into practise in the PKR poker rooms. Should you be a new poker player or a new online gambler you should also check out the 'How To Play' section of the website, accessible through the 'Raise Your Game' tab. PKR's guides have the edge over those of their competitors thanks to their helpful videos. They are also written by top poker professionals and regulars in their poker rooms. You should also head over to the forum in the 'Community' section to share your advice and receive that from fellow players.
Offers and Promotions
To view all the offers and promotions up for grabs at PKR, you must select the 'Rewards' tab at the top of the homepage before clicking on the 'Promotions' tab once you have been transferred to the 'Rewards' page. To find out about the current new customer bonus, simply select the corresponding 'Bonus' tab at the top of the homepage. This new customer bonus sees customers get £10 worth of goodies upon their first £10 deposit. What are these bonuses?
A $6.00 ticket to the $10,000 Mini Masters tournament
Two tickets for any $1.50 sit and go tournament
Three tickets for any $0.60 sit and go tournament.
Running alongside this new customer giveaway is PKR's refer a friend promotion. This sees PKR users receive rewards every time they convince one of their friends to join the poker operator. Unfortunately, it is not clear what is on offer for the referee should they successfully convince their friends and family to sign up to PKR so it's a question of whether or not they want to risk referring a friend for a prize that they might deem to be unsuitable in some way.
One of PKR's most unique offers is their freeroll tournaments for those users of their forum. The forum is an area for those PKR users to get together and chat about everything from poker to sport and politics. Upon posting on the forum, you will then be able to enter one of the Forum Freerolls or Forum Bounties, these events being held every Tuesday evening. The twist to the freeroll event is that the more you post, the more chips you will start off with so it's always worth committing yourself to the forum should you be looking to win big in the freeroll game. Such competitions are also good for boosting camaraderie between users.
It's worth checking out the 'Jackpot Tournaments' page, this laying out how players can be in receipt of cash prizes six days a week, every week! To be in with a chance of winning a prize, you must have one of the following outcomes appear in your game/ hand on the corresponding day of the week.
Monday/ Thursday - All active players share a jackpot should there be a five diamond board present. Only includes diamonds from A to 8.
Tuesday/ Friday - The player who wins with a royal flush on a Tuesday or a Friday wins a reward.
Wednesday/ Sunday - The day's reward goes to the player who flops a straight flush using both their hole cards. They must then win the pot and show what they had.
Those players who feel that they should receive an award should send an email to cardroom@pkr.com within 12 hours of the incident occurring. There are full terms and conditions on the relevant promotion page. It is always worth checking these out.
Further terms and conditions apply to all of the above promotions. Whilst some offers and services have promotions written clearly beneath the promotion brief on the relevant webpage, it is necessary to access the general terms and conditions at the bottom of the page to read the small print of other offers.