Unibet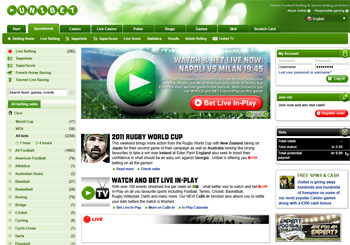 The Story of Unibet
Online bookmaker Unibet delights in being one of the biggest companies of its kind in Europe, the gambling operator offering its services to over 9.7 million registered customers over 1 million countries worldwide. Such services include a sports betting website as well as functions to allow their users to play poker, bingo and casino games. According to the firm's website, they have 17 years experience as a trading company and hold gambling licences in a plethora of European Union countries alongside Australia.
Whilst Unibet is not unique in its prioritising of gambling responsibly, perhaps its methods in keeping its customers safe are. Its website explains in depth how its 'innovative' Player Safety Early Detection System analyses the behaviour of its registered customers to deduce whether or not they are at risk of problematic betting. They ensure that their users are aware of what constitutes dangerous betting behaviour through 'education and information'.
On a similar tack, Unibet monitors its website at all times to ensure that all their customers' details are safe and their accounts not at risk from hacking. They also work alongside their punters as they continue to progress forward, this a part of their 'By Players, For Players' service.
Since their formation in 1997, Unibet have won numerous awards and accolades. Perhaps their biggest achievement was winning the sportsbook of the year prize at consecutive IGA awards. They first picked up the prize back in 2014 before retaining the gong this year. They also secured the 2015 In-Play Sports Operator of the Year prize as well as one other gong. In 2014, they were five-time award winners, sealing a pair of awards at the IGA ceremony and another three at the EGR awards show.
Navigating Unibet
Insert your Unibet username and password in the relevant boxes in the top right hand corner of the sportsbook homepage to log into your account and get betting. Beneath this initial green header is a second banner containing a row of tabs. This allows punters to move from this homepage to other pages such as those concerning the poker room, the games room and the casino. It must be said that each webpage, from my experience, has been slow to load - a green bar appearing in the centre of the screen to inform the customer of the success of the loading process.
Starting with the left hand column, there are two tabs here; the first changing the main body of the homepage from those odds regarding future events to those in-play prices. The second tab changes it back to the original format. Should you be looking for a particular, sport, event, or maybe event sports team, you can use the search bar beneath these two tabs to see if Unibet can quickly take you to the most relevant page.
The shortcuts list beneath this search bar will take the customers to one of the most popular areas of the site upon command. At the time of writing, such popular areas include that dedicated to the Champion League and those focussing on the top four ties of English football as well as those pages concerned with American sports. Also accessible from here are those matches and ties set to be played within the hour or next four hours, another useful feature for those who want to bet on those events taking place not too far in the future.
Also in this leftmost column is an alphabeticised list of links of sports, another Unibet feature to aid customers' navigation around their website. What differentiates this menu from others on the websites of their rival bookmakers is the fact that Unibet have posted the number of markets on offer to the right of the name of the sport. At the time of writing whilst the Olympic games and swimming are the least represented sports with just one available market, there are a massive 11,978 markets in the football category; the most of all the sports listed.
Beneath this A-Z of sports up the left hand side is a concise list of extra features and services. These range from a link to a series of statistics to help the customers place a better informed wager, to a link to those sports scores and results. The other two links in this section are those taking the customer to the calendar and to Unibet TV.
The final two sections up the left are those offering punters help with their wagers and a tool to see the displayed odds change from the fractional style to a decimal or more American style. Your betslip can be found up the right hand side of the homepage along with a television guide and a series of explanatory pieces of text. Access your betslip by simply selecting the outcome that you would like to bet on in the main body of the Unibet homepage. Typing in your stake will change the displayed potential winnings whilst checking the each-way box will enable you to get each-way terms for twice your typed stake. Select more than one variable and Unibet will assume you are betting your selections as a combination. To bet each as a single, select the relevant tab at the top of your betslip. To bet them as a yankee, trixie or other multiple, click on the multiples tab.
Offers and Promotions
Find Unibet's promotions by selecting the 'Promotions' tab in the toolbar. It is on the right and directly beneath the boxes in which you would type your username and password. Using a similar toolbar, move from this generic promotions page to that that deals exclusively with sports offers and services.
Whilst there is a number of sports specific deals, it is first worth telling you about the trio of more general promotions that are offered by Unibet. What with the company not providing a new sportsbook customer package, it is hoped that these three deals will suitably appease potential new punters.
Customers will receive £10 cash every time they refer a friend to Unibet. They can refer up to 10 pals and only need to sign up to the refer a friend programme before sending out e-mail invitations.
It is possible to watch a number of different sports live through Unibet's streams. All you have to do is either bet on the match or race in question or have money in your account at the time of wanting to access the stream. Sports it is possible to watch through Unibet include football, tennis and basketball as well as horse racing. It is also possible to watch more than one stream at a time.
Finally, the 'Ca$h-in' service allows punters to back out of their bet early and receive diminished funds should they want to cut their losses on losing bets or if they are fearful that their winning bet might be scuppered by a late goal or try. Unibet says that this service is available for 'most live events'.
Most of the sport specific promotions at the moment focus on football and tennis though these offers are regularly updated and it is well worth keeping an eye on this page to see if new deals appear. The only horse racing promotion sees customers receive their money back up to £50 should their horse lose by a head at Windsor Park. Very specific.
The first of two football promotions currently up for grabs is the 'European Football Acca Insurance' that sees punters receive their stake back on their £10 fourfold should only one leg let them down. This offer only applies to Champions League and Europa League matches. The second is Unibet refunding all losing correct score, 'HT/FT', first goalscorer and last goalscorer wagers should the goal that consigns their bet to defeat be scored later than the 90th minute. Finally, Unibet will give you your money back if Maria Sharapova wins the French Open and will make your fifth live bet risk-free!
Terms and conditions apply to all promotions.